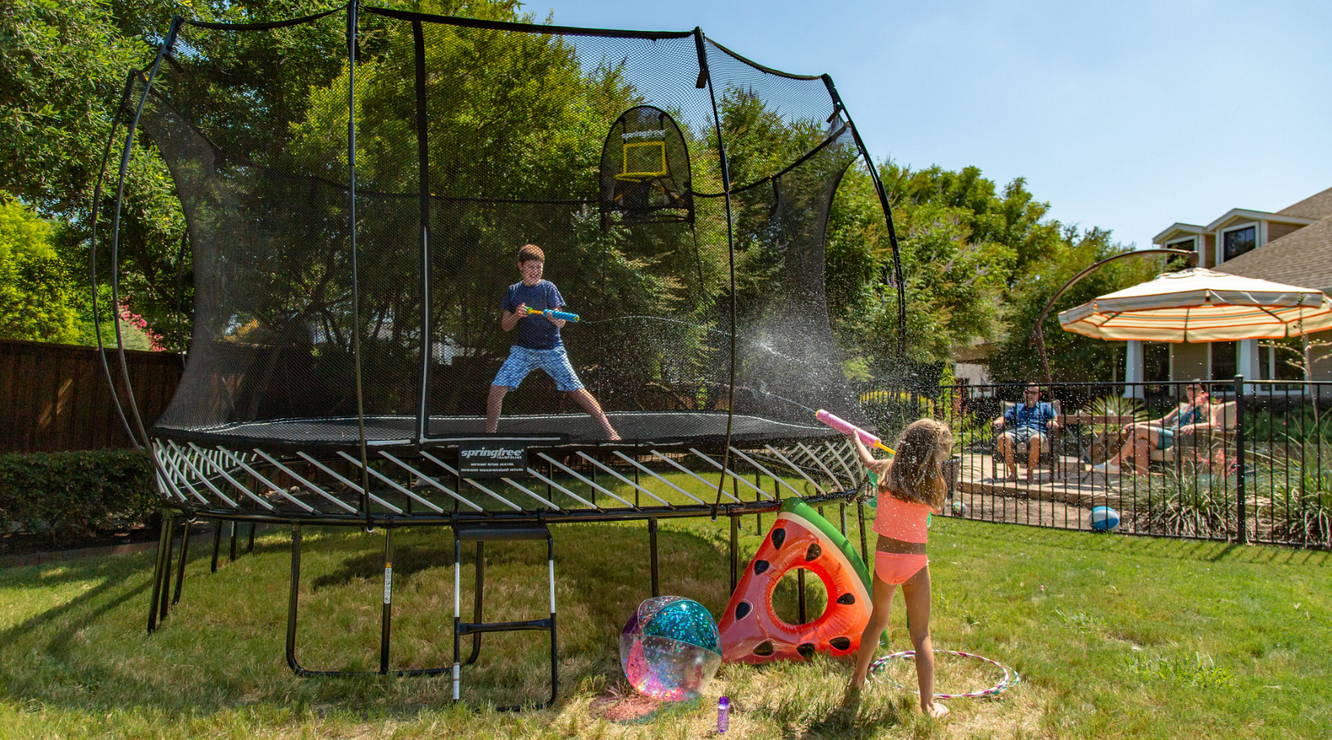 Limit Screen Time This Summer Break & Enjoy Backyard Fun With The Kids Using Your Springfree Trampoline!
Having trouble limiting screen time? Here are some fun activities that will get the kids away from their screens and enjoying the outdoors this summer break! 
1- Reading Time
Create a cozy reading space right on your Springfree Trampoline. Grab the kids favorite books and make reading time something to look forward to. Giving them control over the books they get to read, encourages healthy decision making exercises along with allowing them to read something that they enjoy. 
2- Chalk Art
Unleash your creative side! Creating chalk art right on your Springfree Trampoline is a great way for the kids to limit screen time and enjoy expressing themselves. Chalk works well on trampoline surfaces, allowing for endless fun! From chalk art, to chalk hopscotch, the options are never ending! 
Clean up tip: Simply wash the chalk away with water and soap, let it dry and your blank canvas is ready to be used again! 
3-Jump for joy
Named as America's safest trampoline, kids can jump for joy and parents don't have to worry about any dangers a normal trampoline would pose. Springfree's springless design includes a SoftEdge Mat that is 30x more shock-absorbent, a FlexiNet to prevent any falls, and the frame positioned out of harm's way.⁠ ⁠Lead by example and encourage healthy habits by jumping together! 
Fun fact: 10 minutes of jumping on a trampoline is equal to going on a 30 minute run. That means you can maximize quality time with the kids and meet your fitness goals in less time than hitting the gym; all in the comfort of your backyard! 
4- A Splashtastic Summer Awaits
Set up a sprinkler right under the trampoline and throw in some water balloons inside the trampoline and watch your kids have the best summer ever! 
5- Play Ball
Practice your jump shot and shoot some hoops with your Springfree FlexrHoop. 
6- Backyard PJ Party
We love PJ parties, and we know the kids will too! Grab some pillows and let the pillow fights begin! When the kiddos are all tired out, camp out on the trampoline.
7-Out of This World Fun
Stargazing has never been more fun! Once it's dark out, grab a blanket, telescope and a flashlight and enjoy the views above. 
8- Movie Night
Turn screen time into family time! Having a movie night on your Springfree Trampoline is a great way to spend some quality time with the family after a long week. Grab some pillows, blankets, and your favorite snacks and tune in to your favorite movie. 
We hope we sparked some fun ideas for summer break! Jump away all the winter blues! It's time to celebrate sunshine and outdoor fun! 
---