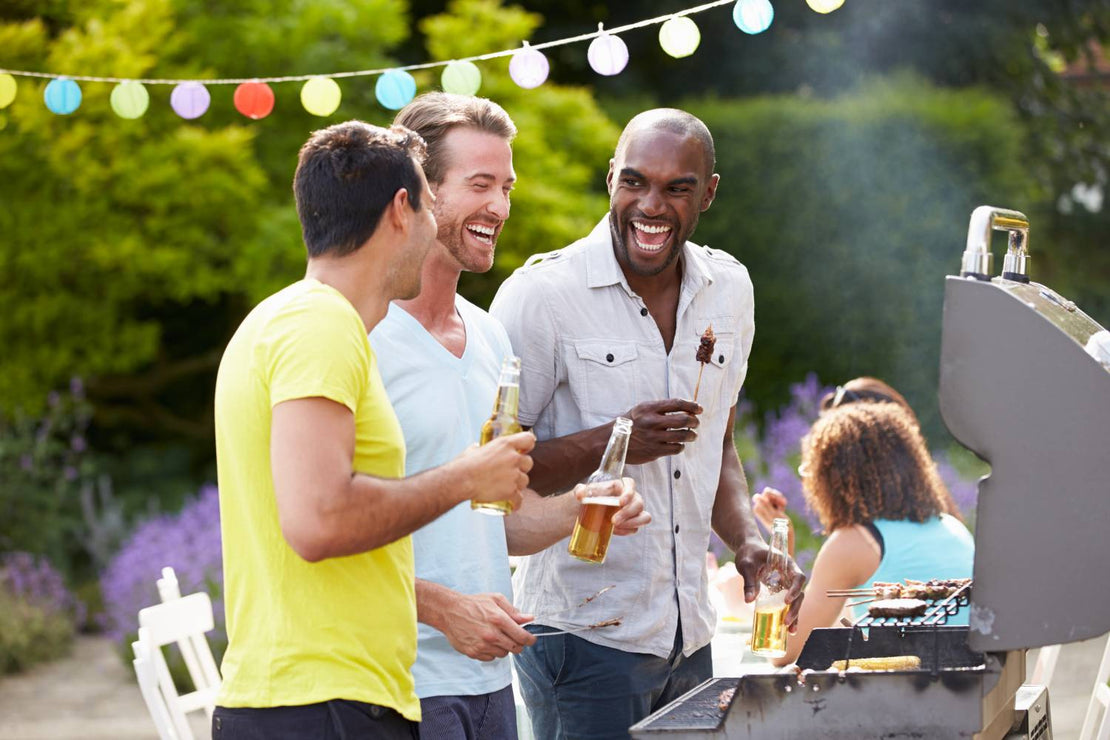 8 Backyard BBQ Tips for Memorial Day
With Memorial Day right around the corner, getting your backyard in tip top shape is a necessity! It's important to make sure you're prepared for backyard living before the start of summer. So, right before Memorial Day is the perfect time to get your space ready for summer. Follow some of these tips to make your Memorial Day BBQ one to remember! 
1. Decorate Your Space
Add some patriotic decor to salute those who gave their lives. From flags, signs, lights, and wreaths, we've got everything you need to dress up the yard for all the patriotic holidays! Shop patriotic decorations here. 
While you're already getting the yard ready, dress up the rest of your space for all-year-round with a few simple decorations. No matter what your outdoor style is, there is always something you can add to your space to create the best atmosphere. Shop our outdoor accessories here.
2. Clean & Prep Your Grill 
After sitting outside all winter, deep clean your grill to start off summer right! Watch Traeger Grill's video below to get some top tips on cleaning your grill.
Don't forget to make sure you have enough propane! 
3. Make Sure to Have Plenty of Seating
Depending on how many people are invited to your backyard BBQ, make sure to plan for having enough seating. Whether you already have a patio set or searching to get your hands on readily-available seating, our stores have a variety of seating types that'll fit your space! 
Shop our patio furniture here. 
4. Add Backyard Games
Keep your guests entertained with some backyard games! From bean bags, to croquet, to boccee ball, there's so many ways to add another element of fun to your Memorial Day BBQ. Everyone always loves a little competition! Don't forget the music, too!
Shop our yard games here. 
5. Get the Right Wood Chips/Pellets for Your Recipes
Make sure you have your recipes all planned out so you have all the ingredients you need! Depending on what you're grilling, get new wood chips or pellets for your grill so they give off the best flavor. We have a variety of flavors to choose from for whatever taste you want to achieve! 
Shop wood chips here.
Shop wood pellets here. 
6. Add a Trampoline Accessory
If you already have a Springfree, these add-ons make trampoline time even more fun! 
The Springfree FlexrHoop Kit is built with the same materials and design concepts as our trampoline, so no hard surfaces are added to the jumping area. It's great for kids (and adults) who want to practice their slam dunk skills all summer long! Shop here.
7. Clean & Shock Your Pool or Spa
Swimming on Memorial Day is always a guest favorite! Unless you've just opened your pool, make sure to clean out any debris or dirt that may have gotten into your pool. Run your vacuum and use a leaf skimmer to remove anything sitting on the top that it doesn't pick up. 
Checking your water quality before guests come is very important to make sure it is safe, especially right after opening. We offer FREE water testing at any of our 8 Chicagoland locations or you can use pool testing strips to determine what your pool water needs. From there, add any chemicals it may need to keep it safe for swimming!
Shop in-store for pool chemicals at any of our 8 Chicagoland locations.
8. Replace Old Grill Tools
It's always nice to have fresh tools at the start of summer. Make sure to replace any tools that have grease build-up or char. While you're at it, take a look at your collection and make sure you have everything you'll need for your cookout. 
Shop our grill tools here.
*******
We celebrate, honor, and remember all those who sacrificed their lives for our freedoms this Memorial Day. We hope that some of our backyard BBQ tips help you while entertaining and gather families and friends together this year. Don't miss out on our Memorial Day Sale and safe up to 50% off select departments to upgrade your backyard space for summer! 
---