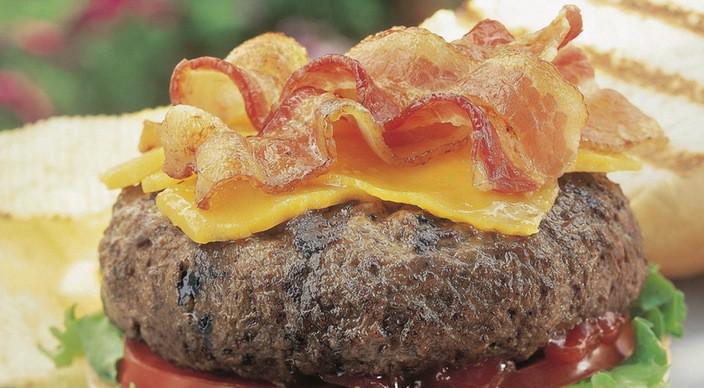 Burger Week Recipe #1- Classic Bacon Cheeseburger
All week long we will be celebrating our 4th Annual BULL Burger Battle by posting incredibly juicy, savory, and downright delicious burger recipes from our grill partners at BULL Outdoor Products, Weber Grill, Big Green Egg, Traeger Grills, and Napoleon Grills. We hope this gets you ready and excited for our action-packed BULL Burger Battle event happening this Saturday, July 23rd at our Orland Park store! See you there! 
To kick us off, a Classic Bacon Cheeseburger from Weber Grills! Happy Grilling!!! 
(Image courtesy of Weber Grills)
CLASSIC BACON CHEESBURGER
• 6 slices bacon
________________________________________
• 2 pounds ground chuck (80% lean)
• Kosher salt
• Freshly ground black pepper
________________________________________
• 6 slices extra-sharp cheddar cheese
• 6 hamburger buns, split
• 6 leaves crisp lettuce
• 6 slices tomato
• Ketchup (optional)
• Mustard (optional)
INSTRUCTIONS
1. In a large sauté pan over medium heat, cook the bacon until crisp, 10 to 12 minutes, turning occasionally. Transfer the bacon onto paper towels to drain.
2. Gently shape the ground chuck into six burgers of equal size and thickness, each about ¾ inch thick. Season both sides of the burgers with salt and pepper. With your thumb or the back of a spoon, make a shallow indentation about 1 inch wide in the center of each patty so the centers are about ½ inch thick. This will help the patties cook evenly and prevent them from puffing on the grill.
3. Prepare the grill for direct cooking over direct high heat (450° to 550°F). 
4. Brush the cooking grates clean. Grill the burgers over direct high heat, with the lid closed as much as possible, until cooked to medium doneness, 8 to 10 minutes, turning once. During the last minute of grilling time, top each burger with a slice of cheese to melt and toast the buns over direct heat.
5. Serve the cheeseburgers hot on the toasted buns with a lettuce leaf and a slice of tomato, topped with a slice of the bacon. Serve with ketchup and mustard, if desired.
---