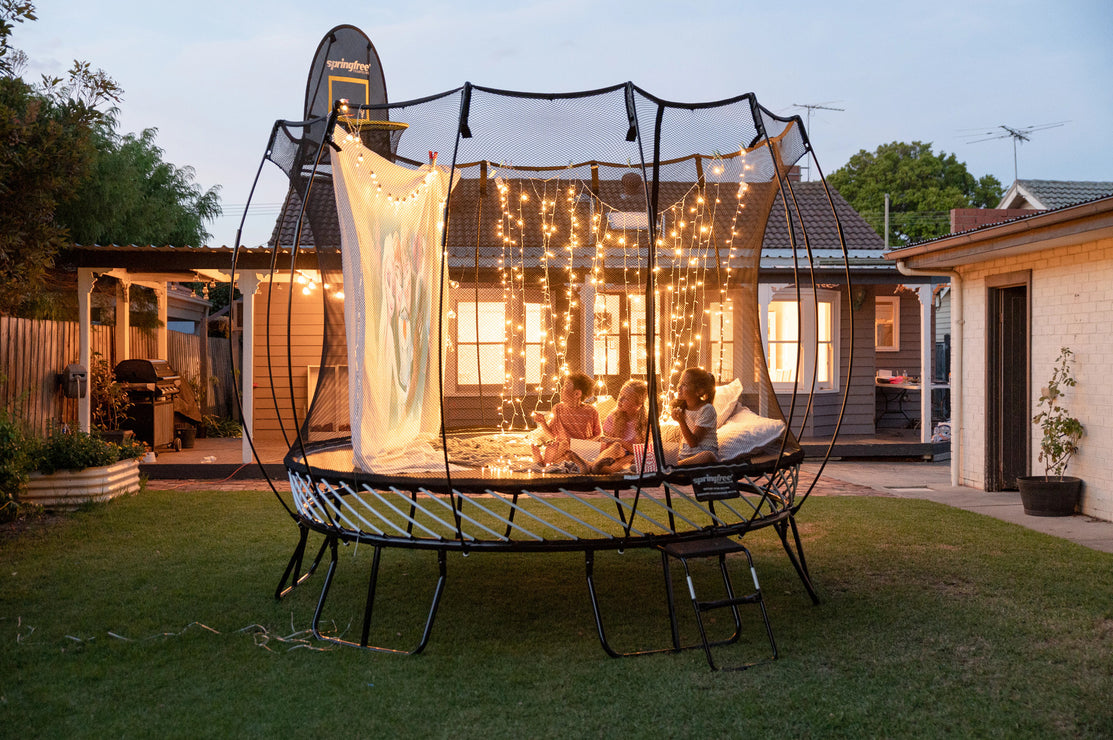 Fall Trampoline Activities
Use your trampoline longer this year with some fall, outdoor entertainment! You can always bundle up the kids for some extra trampoline jumping during the colder months, but why not change it up with some fall time trampoline activities! Creating a fun day in the backyard is a great way to let the kids enjoy the backyard for longer this year. Here's some creative trampoline ideas that will bring the fun home all-year-round!
Don't have a Springfree yet? Get the World's Safest Trampoline online here.
Have a movie night!
Host the kids and their friends to an at-home movie night in your backyard! With a few simple things to get together, you can create your own outdoor watching party!
Weather & Timing: Make sure to choose a night that has comfortable weather - nothing's worse than a rain out! The timing here is also key. Choose a time where there is minimal or no sun. We recommend waiting until after sunset so you can have the best visuals.
Movie Screen: If you already have a movie screen, hang it on your trampoline or area near by that is visible from your trampoline. If you don't have a screen, no problem! Just use a large, white sheet and you'll still get the job done!
Audio & Visual Setup: The most important thing is to have a projector. With some under $50, there are many affordable options to screen your favorite movie. Make sure to set it up a few feet away from your screen. Some may need to be elevated depending on the height of your screen. If you're using your laptop to play the movie, we recommend using speakers to get the best audio. 
Movie Choice: Make sure to choose a movie that the whole audience will enjoy! Whether you're still in the spooky mood or ready to get into the holiday spirit, there's endless options for your movie night!
Snacks: Serving the best snacks is always an essential component to the perfect movie night! Popcorn is a given, but adding in some other snacks like candy, chips, nuts, or fruit will give a variety to your guests.
Seating & Décor: Set the movie-theatre ambiance with some string lights, a fire pit, pillows, blankets, and other seating for your attendees. Plus, you can leave the lights on all year for some extra fun décor on your trampoline!
Workout Together!
Keeping the kids active all-year-round isn't always easy. But with a Springfree, you can keep them both entertained and agile. 
Do something as simple as meditation or yoga, or go all out with a trampoline workout video! Here's 2 short workouts we recommend to do on your Springfree! 
Jump Workout: 
Total Body Workout:
Camp Under the Stars!
Camping doesn't always have to be as tough as packing up the car, the kids, and the long drive. It can be as easy as setting up right in your backyard! With a few camping essentials, you can have the perfect outdoor night on your Springfree trampoline. 
The sleeping arrangements are the most important part of camping. If you set up right on your trampoline, you'll already have a cushioned surface. So, all you'll need is some pillows, sleeping bags, and blankets. For the full camping experience, you can set up a tent on your trampoline too!
Since it's getting colder here in the Midwest, setting up a fire is important for backyard camping. While you're at it, get some snacks you can roast on the fire while you watch the stars! 
*******
We hope this gives you some fun ideas to keep the kids out longer this year! With a Springfree trampoline, the fun is endless! And named as the World's Safest Trampoline, you, as a parent, don't have to worry about safety issues. Stop in-store this weekend and get yours for as low as $36/month!
---