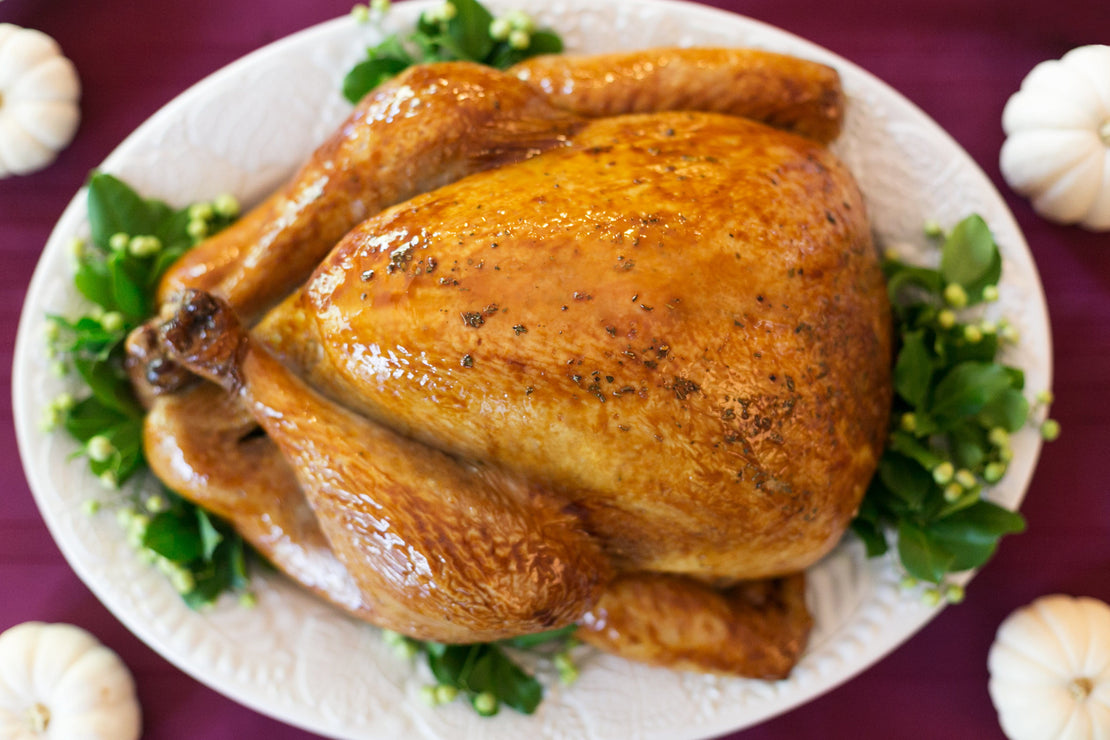 How to Smoke a Thanksgiving Turkey
The goal for every Thanksgiving meal is to cook the turkey just right. Try smoking your turkey to make this holiday extra special this year! Although smoking takes a bit longer than traditionally cooked oven-baked or grilled turkey, you will seem like a top chef to your guests this Thanksgiving! The process of smoking a turkey is a bit different, but can be easily mastered by following this turkey smoking guide. 
Top Tips For Prepping:
Make sure you know what size turkey can fit into your smoker.

We recommend staying between 10-14 pounds to cook thoroughly. If you want to go bigger, realize the cook time will be longer and make sure your smoker is large enough.
Know how long your turkey will take to cook.

If you have a frozen turkey, make sure to thaw it for 2-3 days slowly in the refrigerator. Give yourself about 6-8 hours to prep and smoke your bird. Typically, the turkey will take 25 minutes per pound to cook at 250°F. 
DON'T stuff your bird.

Many people stuff their turkey when cooking it traditionally in the oven or grill, but when smoking a turkey, this causes it to cook unevenly. The stuffing inside blocks heat from reaching the center, so the breasts will dry up before the center is fully cooked. But, feel free to use aromatics for more internal flavor such as garlic, onion, rosemary, thyme, or lemon.
What You'll Need:
Smoker
10-14 lb. turkey
Brine (if desired)
Smoking wood (apple, cherry, or hickory are the most popular)
Aluminum drip pan (larger than your turkey)
Meat thermometer
Butcher's twine
Utensil to baste
Aluminum foil 
How to Smoke Your Turkey:
Remove neck and giblets and pat dry. (if brined, rinse with cold water)
Tie the legs together with butcher's twine and tuck the wing tips behind the shoulder joints. (This prevents the tips from burning and makes a presentable bird.)
Rub your seasoning of choice if not brined.

For crispier skin, rub olive oil or butter on the skin. For spices, w

e recommend salt, pepper, garlic, parsley, sage, and rosemary.
Prepare smoker and heat to 250

°F.

In the aluminum drop pan, add about 4 cups of water to prevent drippings from drying out. (Check back in later in cooking time to make sure there is still moisture and add more if needed.)

Place your turkey directly on the smoking rack and baste every 1-2 hours with the juice from the drip pan. 

Smoke turkey until the internal temperature reaches 165°F measured with your thermometer. (Typically takes 25 minutes per pound to cook at 250°F.)

Take turkey out and wait about 10-15 minutes before slicing.
Use the leftover drippings for gravy and enjoy! 
---