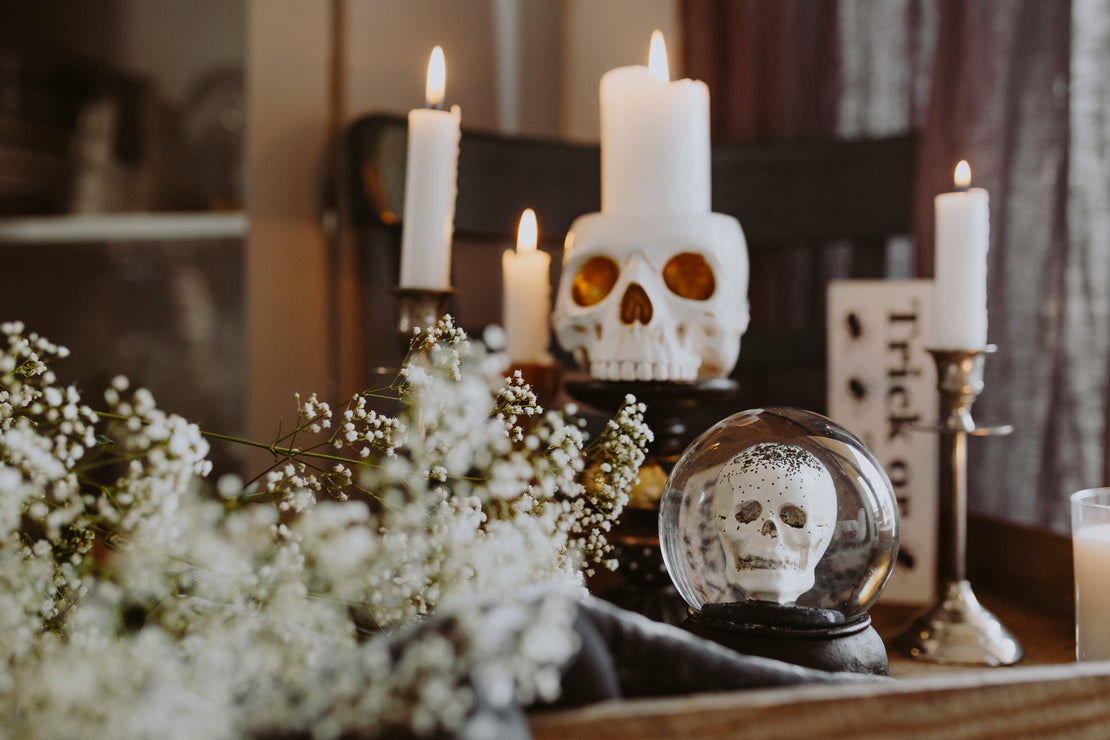 2021 Halloween Décor Trends
Fall is here and your home is ready for some Halloween enchantment! Halloween decorating can be made easy by working with your home's current décor and making a variety of spooky additions where needed. Whether you gravitate towards gory props, cute pumpkins, or dark, witchy accessories, we have decorations that go with a variety of styles. With a few trendy, Halloween pieces added throughout your home, you'll be fall ready in no time! 
Witchcore Aesthetic 
This new trending term, witchcore, is a subculture or an aesthetic that features themes of witchcraft. So, you may see things like tarot cards, sage, stones, skulls or bones, and potions to achieve this type of décor style. Here's some of our favorite witchcore decorations for this year: 
Lighted Resin Halloween Potion Bottles
16" Engraved Wooden Halloween Witch Wall Signs
12" Metal Halloween Wall Hanging Signs 
Lighted Glass Halloween Bottles
Set of 10 LED Potion Lights (in-store only)
Halloween Tree
Halloween trees are a creative, fun way to decorate for the season! By utilizing your Christmas tree early or going all out with special, black Halloween tree, you can create a spooky, whimsical vibe to your home by adding a few themed ornaments, webs, and lights!
Black Tahoe Tinsel Pre-Lit Pine Tree
Halloween Classic Orange / Purple Bulb String Lights
60 Battery-Operated Multi-Colored LED Cluster Lights
6' Friendly Halloween Garlands
50" Light Up Plush Black Spider
14" Posable Skeleton Decoration (in-store only) 
Unique String Lights
Change up your string lights from the same old bulbs to ones that better set the Halloween mood! From skeletons, to pumpkins, to bats, these string lights will add a fun element to your room or patio. 
Lighted Jack-O-Lantern Garland (pictured) 
LED Ghost Shaped Halloween Lights
Set of 50 Two-Toned Candy Cane Lights
10 LED String Lights - Ghost, Spider, or Jack-O-Lantern (in-store only)
Set of 15 Miniature Skeleton Lights (in-store only)
Lemax Spooky Town
These sought-out, hand-made collectibles are always a Halloween favorite! Get creative with your Spooky Town display by adding new buildings, figurines, and other décor elements to create a unique set-up! 
Shop our Spooky Town here. 
Already have a collection going? Enter to win the new 2021 Bad Apple Shop by sharing your collection, big or small, here!
Larger-Than-Life Inflatables
Add a bright, fun element to your front yard with our larger-than-life inflatables! Gory or cute, we have Halloween inflatables for any theme you're going for.  
Happy Halloween Inflatable (pictured)
6' Airblown Jack Skellington Tombstone Inflatable 
9' Airblown Inflatable Animated Fire & Ice Dragon
Airblown Inflatable Car Buddy Witch
12' Airblown Inflatable Pumpkin Reaper 
7' Airblown Inflatable Welcome Reaper
Shop all inflatables here.
Throw Pillows

If you don't want to add any large décor, but still have the cozy, fall feeling, add in a few throw pillows to your couch, bed, or outdoor patio set!
Decorative Fabric Halloween Pillow (pictured)
*******
 We hope you're just as excited for the holidays as we are! As pools close for the winter and you transition into the new season, holiday decorating is a family favorite every year that you can check off your list. As always, we're your one-stop-shop for all things Halloween and fall backyard essentials, so stop in-store today to see how you can Bring the Fun Home this fall!
---