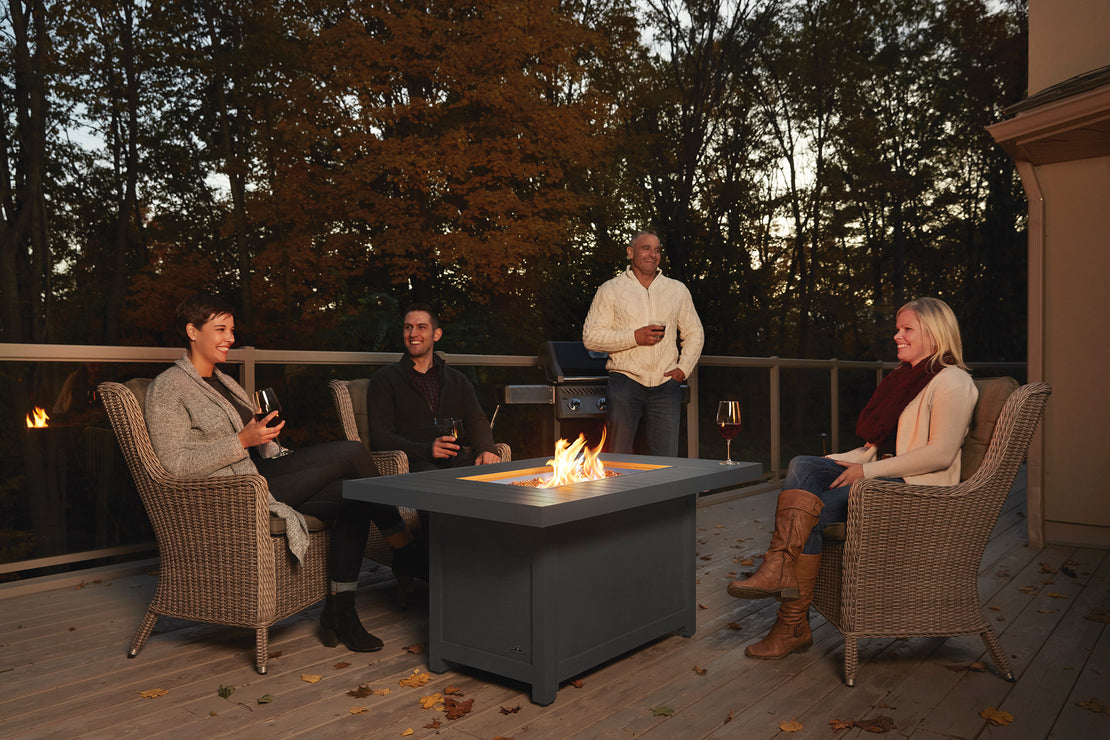 Fall Backyard Essentials
With football season here and fall time approaching, it's time to transition your yard to be ready for the cooler weather. By adding some heaters for comfort, setting the ambiance with décor, and providing a variety of entertainment for guests, your yard will be fall-time ready in no time!  
KEEP YOUR GUESTS WARM & COMFORTABLE
QUARTZ GLASS TUBE PROPANE OUTDOOR PATIO HEATER
This beautiful patio heater is guaranteed to liven up any outdoor atmosphere! The long-lasting, stainless steel finish and mesmerizing glass flame tube will surely catch the eye of all your guests while being functionable! Simply attach your propane tank, light the flame, and you'll have an eye-catching heater for your gathering.

45" ALUMINUM SQUARE FIRE PIT TABLE
This gorgeous fire pit will be a show-stopper at your next gathering! Built around a stainless steel burner buried under beautiful fire glass, this fire pit table creates quite an impressive silhouette. It is built from weatherproof cast aluminum in a hammered bronze finish that goes well in almost any backyard design aesthetic!

Shop here.
STAINLESS STEEL TABLE TOP PROPANE PATIO HEATER
Perfect for smaller-sized outdoor entertaining or for on-the-go, our Stainless Steel Table Top Propane Patio Heater provides warmth while adding ambiance to any outdoor table top setting. This mid-sized unit can raise the surrounding outdoor temperature by 10-25 degrees! 
MAKE ENTERTAINING A BREEZE
TRAEGER IRONWOOD 885 WIFI-ENABLED PELLET GRILL
Having the perfect grill to keep your guests full and satisfied is always an essential for entertaining, especially during football season! This Traeger Ironwood grill gets hotter, faster and maintains its temperature within +/-5 degrees F° thanks to a revamped D2® Direct Drive that delivers more power and better flavor. Plus, the Ironwood works in conjunction with the Traeger App, giving you the ability to control your grill from your smart phone so you can entertain and grill at the same time!
Shop the Ironwood 885

here.
Shop our other grill models

here.
SPRINGFREE TRAMPOLINE
Named as the World's Safest Trampoline, all ages can have safe, fun play right in the backyard all-year-round! Springfree's springless design includes a SoftEdge Mat that is 30x more shock-absorbent, a FlexiNet to prevent any falls, and the frame positioned out of harm's way.⁠ Available in 9 different sizes, you can bring the fun home with any size backyard!
GOSPORTS REGULATION SIZE SOLID WOOD PREMIUM CORNHOLE SET
Get the ultimate cornhole experience with this wooden set! While the games come with a traditional varnished wood surface, they can easily be painted or customized with your own decals and designs to make for your perfect cornhole set. Hours of fun with friends and family at tournaments, tailgates, holiday weekends, cookouts, campsites, and more!
KEEP THE BUGS AWAY
THERMACELL PATIO SHIELD MOSQUITO REPELLER
The scent-free Thermacell Patio Shield Mosquito Repeller effectively repels mosquitoes by creating a 15-foot zone of protection. This compact, easy-to-use and stylish device will look great on any patio or deck while it works to keep pesky mosquitoes from biting and bothering your guests. Plus with no open flame or smoky candles, you can enjoy the outdoors all-year-round!
INSECT REPELLING PREMIUM BANDS
This 
Insect Repelling Premium Band
 creates an invisible shield around you so you don't have to deal with those pesky biting insects! The advanced waterproof coating allows you to enjoy all of your normal activities without worrying about diluting the potency. 
Effective against mosquitoes, biting flies, gnats, sand flies, bees no-see-ums and many other annoying, flying pests.
SET THE AMBIANCE
65" LATTICE TIKI® URBAN GARDEN TORCH
Create your own backyard paradise with this 
65" Lattice TIKI® Torch!
 This natural flame torch helps set the mood for your guests and add fun element to your backyard or patio. The urban metal torch features a modern lattice design, a weather resistant powder coated one-piece pole, and easy fill wide mouth to ensure a clean fuel pour.
MAGICAL ULTIMATE FLAMES
Want to add a little extra magic to your fire to impress your guests? Magical Ultimate Flames are the perfect accessories for any wood burning fire! Simply toss an unopened packet or two into your fire for a magical experience that is sure to delight all ages! It's the best campfire novelty product on the market today and you'll be amazed by the vibrant colors produced. Ultimate Flames adds dazzling blues, brilliant greens and delightful purples to transform a boring yellow and orange fire to a dancing rainbow of flames!

Shop here.
ZEN GARDEN SOLAR FLICKER FLAME PATHWAY LANTERN
Transform your yard into a tropical oasis with these Zen Garden Solar Flicker Flame Pathway Lanterns! This solar-powered lantern provides a unique look and beautiful dancing flames that look like real flames, but without the fuel, fire, and mess. 
FLICKERING LED CANDLE LANTERNS
This vintage style Flickering LED Candle Lantern is the perfect decoration for your garden, pathway, patio, or outdoor set. The hanger allows you to hang on a tree branch or a hook so you can get creative with the placement! Plus, it comes with a remote so you can control them from anywhere in the backyard!
We hope some of our Fall Backyard Essentials gave you some inspiration on getting your backyard ready for fall entertaining! As always, we're your one-stop-shop for all things outdoors and for Halloween! Our Best Time To Buy Sale is going on NOW with up to 60% off select departments until 9/26! We hope to see you in-store so you can bring the fun home!
---