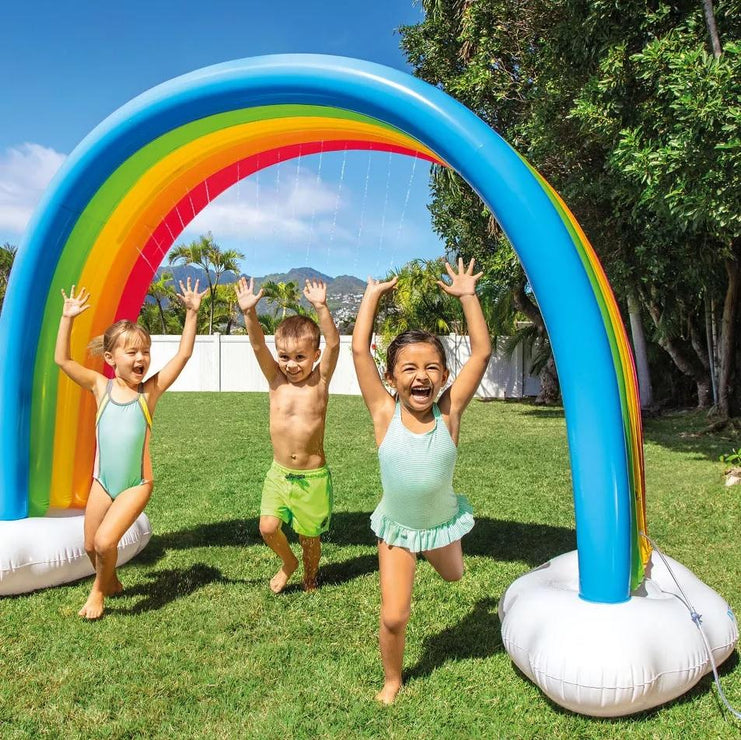 Backyard Summer Activities
Make the most out of your backyard this summer and enjoy all the fun you can create! There are endless outdoor activities that can keep everyone engaged and cooled off during these hot months. Even if you don't have a swimming pool, we've got tons of backyard activities that'll keep the kids and your guests entertained all summer long!
No pool, no problem! Splash around outside the pool!
Intex Dinosaur Inflatable Play Center
Keep the kids entertained as they have fun splashing and playing in this prehistoric oasis! Keep cool in this wading pool, with the built-in palm tree sprayer and waterfall that attaches to a garden hose for tons of roaring fun! Feed the hungry dinosaur with the six included colorful fun balls and slide down the volcano water slide for endless fun!
Intex Inflatable Rainbow Cloud Sprinkler
Help your kiddos beat the heat this summer and let them enjoy a relaxing time inside this magical rainbow cloud sprinkler! The water sprinkles from the archway, making it fun for kiddos to run right through. Perhaps you don't have a large pool or just want to get your toddler some safe, sun time. If so, this is the perfect sprinkler for you and your family!
H20Go! Mount Splashmore Kids Inflatable Water Slide Splash Park
Climb into a new adventure with your own backyard waterpark! Built for kids in the rough-and-tumble summer, this backyard water slide features durable, double-stitched PVC material. Kids can scale the climbing wall, slip down the slide, get drenched by the surprise soak bucket, splash in the splash pool and spray water with the water blaster. They'll never be begging to go to the waterpark with this in the backyard!
Shop now
. 
H20Go! 16' Splashy Shark Water Slide
This shark-themed slip 'n slide is the ultimate summer activity for kids of all ages! Slide into deeper waters at the end of the slide for a dramatic finish and extra splashing fun! Simply connect to a garden hose and let the water do the rest.
Entertain with backyard and pool games!
GoSports Deluxe Croquet Set 
Add a unique touch of fun to your next backyard gathering with this croquet set! The timeless fun of croquet is sure to get everyone of all ages up and moving to make for a good time. The sturdy carrying case neatly stores the set and makes portability a breeze, so croquet will quickly become a staple among your family and friends. Plus our handles are specifically designed to be easy to use by all ages!
Intex Inflatable Pool Volleyball Game
Spike your way into summer fun with this pool volleyball game! This set includes an inflatable volleyball and net, so you are ready for "game on" all summer long! Plus, the poles are designed to add anchor weights if you're trying to get real competitive! 
Portable Badminton Pop-Up Game
This on-the-go game can be enjoyed almost anywhere there is a flat surface! Simply open the case which becomes the base, insert the poles, attach the net and enjoy! It comes with 4 deluxe rackets with aluminum rims and stay-put grips and four deluxe birdies so all you have to do is set up, grab some friends, and play!
Swimline Log Flume Joust Action Pool Inflatable Set
This water joust game will surly bring out the competitive spirit in your guests of any age! The perfect game for two, this pool game will add a new fun element to your pool. Simply blow up the set and you've got hours of pool fun!
Play or relax on the BEST pool floats!
Intex 8 ft. Mega Unicorn Island 
Steal the show in your pool, at the beach, or wherever you lounge in the water on this XL mystical float! Enjoy the magic of the summer sun and do it in style! This 8ft float allows you to fit all your friends, so you can relax and enjoy your company with this rainbow unicorn!
Bestway Color-Changing LED Swim Ring 
This color-changing LED Inner Tube brightens up any pool party this summer, day or night! The inner lights can be turned on and off with a single touch of a button and alternate between 7 different colors! Lay on this and you'll be the talk of the summer!

Bestway H20Go! Pop Llama Inflatable Ride-On Pool Float 
This colorful llama is loud, bold and perfect for pool time this summer! It features eye-popping art with a large sitting area so you can fit you and a friend! The long llama neck can double as something to hold on to or lean up against while enjoying your relaxing day out on the water.
Intex Inflatable Juicy Watermelon Island Pool Float
What is more refreshing on a hot summer day than a sweet slice of watermelon? Relax in comfort on this Watermelon Island Float, perfect for you and a friend to enjoy this slice of paradise!
*******
We hope this helps you add some new, fun elements to your backyard entertaining for the last few months of summer! These are just some of our favorite outdoor activities, so stop in at any of our 8 Chicagoland locations or check out the Backyard Fun section of our website for even more ways to transform your yard and make your house a guest favorite! 
---