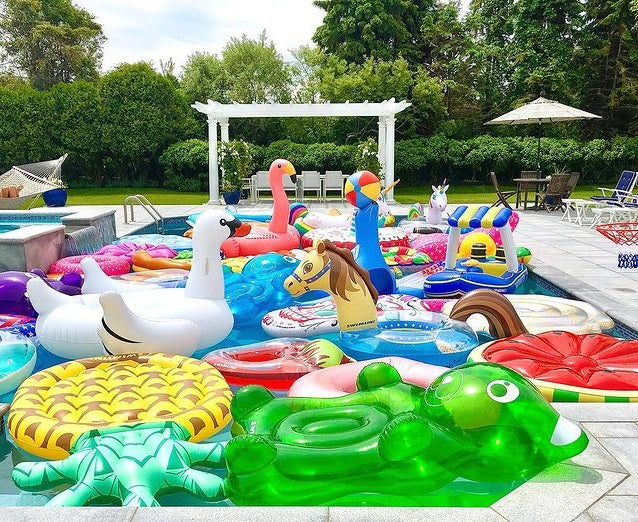 Best Pool Floats of 2021
Impress your pool party guests with best inflatables in Chicagoland! Adding a new, unique pool float always makes pool time even more fun! From giant, mystical unicorns, to pizza slices, to mini boats, we've got a variety inflatables for everyone! With hundreds of floats in stock from all the top brands - Intex, Swimline, and Poolmaster, we'll keep you cool all summer long!
THE ORIGINAL INFLATABLE SWAN FLOAT BY SWIMLINE 
Swimline's famous Swan Float will be your pool or lake's best friend! This classic float is what set the trend for the pool float category and will never go out of style! With tons of your favorite celebrities seen on this float, you and your friends will stand out on this float!
SWIMLINE'S INFLATABLE UNICORN ROCKER POOL RIDE-ON
Embrace your inner spirit animal on Swimline's Unicorn Rocker! Ride solo or join with a friend, either way you'll have fun because everything is better with unicorns of course! Rock this magical item, snap a pic, and you'll have everyone wanting to join your unicorn party!
SWIMLINE INFLATABLE BEER MUG POOL FLOAT WITH ICE CHEST
Swimline's Beer Mug Float provides comfort, a place for your drink, and an ice chest for refills! Along with a cup holder, the mug handle doubles as a ice chest so you never have to get out of the pool! You are sure to be envied as you lounge on the water, always with a chilled beverage in reach.
AQUA ROCKER POOL FLOAT BY POOLMASTER 
Large enough to splash around with 2 or 3 other friends, the Aqua Rocker by Poolmaster will keep your pool days rockin'! Featuring stabilizing outer rocker floats and a ladder-style inside, this float is designed for all day fun for you and all your friends!
INTEX INFLATABLE JUICY WATERMELON ISLAND POOL FLOAT
What is more refreshing on a hot summer day than a slice of watermelon? Relax in comfort on this Intex Watermelon Island Float Lounge, perfect for you and a friend to enjoy this slice of paradise!
SWIMLINE'S GIANT FLAMINGO POOL FLOAT
Kick your pool party game up a notch with Swimline's signature, Giant Flamingo Pool Float! This huge flamingo has a recessed seating area that's comfortable for lounging and big enough for two. This pool float is the perfect way to combine relaxation and recreation in your backyard swimming pool!
INTEX INFLATABLE CRUISER MOTORBIKE RIDE-ON POOL FLOAT
Bring the thrills of the open road to the poolside with the Intex Cruiser Motorcycle Inflatable Ride-On Pool Float. This motorcycle pool float is designed so your kid can ride it like a real low ride cruiser. It is built with durable 12-gauge vinyl, includes 2 heavy-duty handles and 4 heavy-duty air chambers for safety.
SWIMLINE'S GIANT INFLATABLE PRETZEL POOL FLOAT
Playing with your food has never been more fun! Designed to resemble a soft pretzel studded with salt, Swimline's Giant Inflatable Pretzel Pool Float is big enough to fit up to 3 pretzel fans at a time!

SWIMLINE'S GIANT GIRAFFE POOL FLOAT RIDE-ON
Go on a safari without leaving the pool with this unique Giant Giraffe Pool Float Ride-On from Swimline! Its recessed lounging area ensures a comfortable ride, even in slightly wavy water areas. The float comes with grab handles that allow for secure holding and prevents the rider from falling off for full safety and relaxation!
SWIMLINE'S GIANT T-REX INFLATABLE KID'S POOL RIDE-ON
Journey back to the Jurassic era and get ready for some prehistoric fun when you ride on this Giant T-Rex Kid's Pool Float from Swimline! It features a wide, cushioned seat that can accommodate 2 or more brave dinosaur enthusiasts to keep you floating through Jurassic World!
*******
Stop on in! We have hundreds of inflatables in stock and ready to keep you and your guests cool all summer long! Don't forget to tag us on social media @AmericanSale while you relax on your favorite float!
---