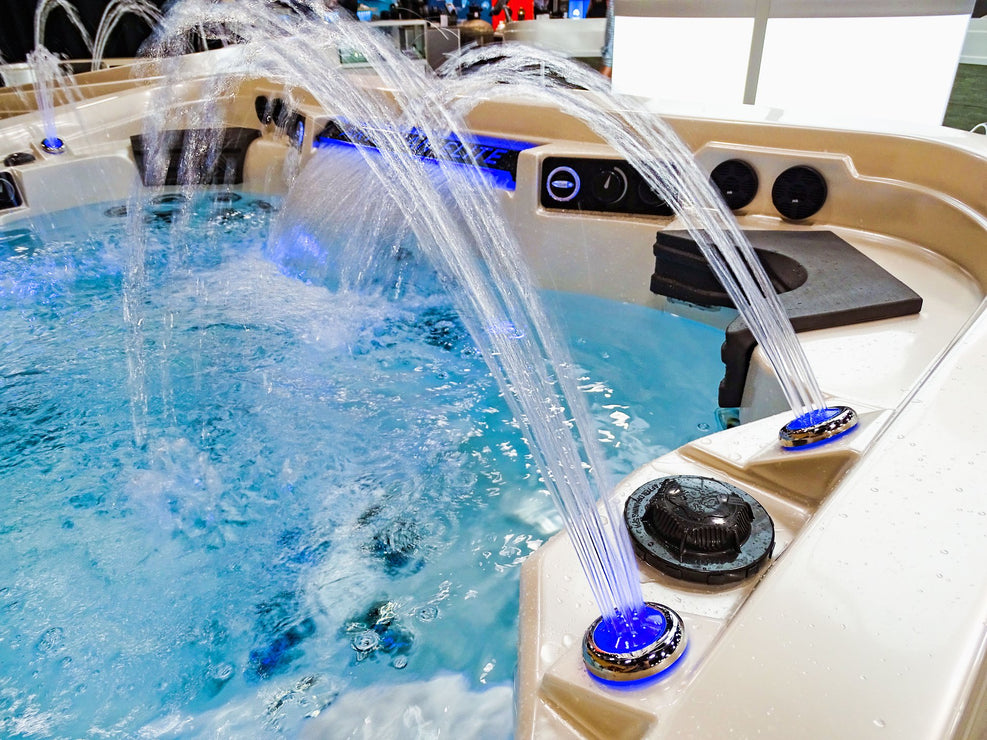 Choosing the right hot tub for you
Buying a hot tub can be a very exciting purchase for you and your family but there are several things that need to be taken into consideration when purchasing a new hot tub. In order to better pick the best hot tub for your needs, you will need to do some homework. To assist we have composed a checklist of things to consider when making your purchase:
1- Do your research on the brand you're considering
There are several different brands of hot tubs out there to choose from. You want to ensure that you are choosing the best quality possible. Quality doesn't always mean the most expensive either.  We carry many brands that have quality models to fit every budget.  While researching brands, look at brands that have received great reviews and customer feedback.
2- Be sure to review the hot tubs specifications - but buyer beware, some of these companies like to trick you
This gives you all the information to what the spa has to offer. For example, the number of seats, size/dimensions, number of jets and so on. On Hot Springs site, they provide an excellent breakdown of what each category means. A great reference to read!  Some brands out there like to brag about how many jets they have but more doesn't always equal better. With over 40 years of experience being Chicagoland's hot tub experts, we have gathered insight from our customers and vendors and it mostly breaks down to three things you should be looking for: Better Massage, Better Water, and Better Energy. 
When we talk to vendors and decide which brands and models to carry, those are the three main things we look for in a spa. If you have those three things covered with your spa then we can guarantee you will use it more.  The most expensive spa you will ever purchase is one that you don't use!
3- Make sure you have enough space for your hot tub
When choosing the size of your hot tub you will need to consider the best location. You will want to ensure that you are able to easily walk to and from your tub without having to walk through a grassy or dirty area. Should you, ultimately all the dirt and debris when end up in your tub…no good!   We have also found that the closer the spa is to your door the more you will use it, which is the main goal!
Also consider your view.  What will you be looking at while relaxing?  Will it be a great view of trees and sky or the side of your neighbor's house?  This may alter which direction the spa is facing.
Also consider how many points of entry you want around your spa and what type of clearance you may need to have a cover lifter swing on and off to assist you with opening and closing the cover.
4- Review town requirements
Review your city or town's current codes to see if there are any required permits needed pertaining to the purchase of your hot tub.
5- Foundation hot tub is placed on
When placing your tub on your deck, ensure that your deck is structurally sound to support the weight. We recommend calling in a professional to have the area evaluated before having your hot tub installed.
We feel your best bet is to have your tub placed on a concrete patio or any firm, level surface. If you are unable to achieve this, we offer Smart Deck patio systems which is an easy and affordable solution to establishing the surface needs.
6- Consult an electrician
We recommend having a licensed electrician take a look at the electrical in your home to ensure you have the necessary, available power and/or hook ups. If you do not, the electrician can easily supply this for you.
This check list is a great start but always consult with one of our spa experts at your local American Sale store and they can help you pick the perfect one based on needs and what works best for you and your family!
Happy Soaking!
---