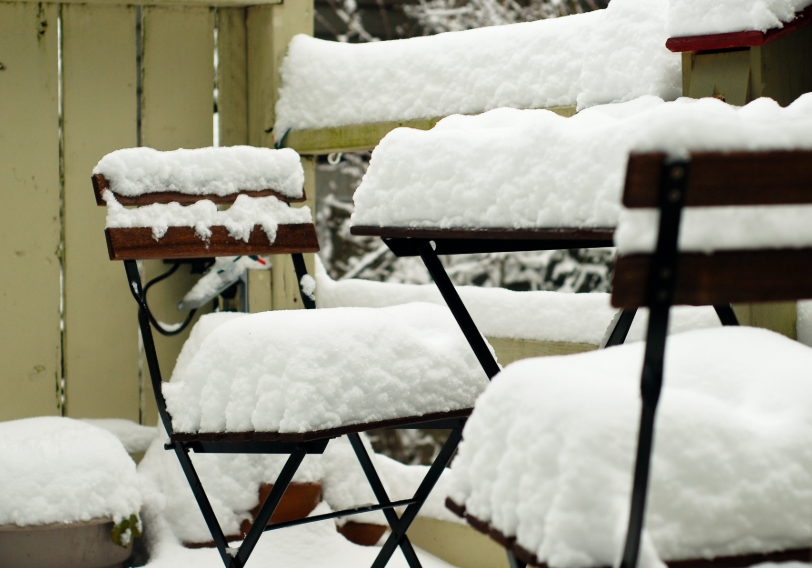 Properly Storing Your Patio Furniture and Grills
As much as we may not want to admit it, winter is coming, so we want to make sure that all of our beautiful outdoor furniture is stored and protected this winter. If you do not have the space to store the items indoors, here are some tips and suggestions on how to keep your outdoor furniture safe this winter.
First, we recommend cleaning the items of any dirt, grease, debris and so on. Cleaning your items now will save you time and effort in the Spring.This will also allow you to start using your items again immediately at the first sight or warm weather!
Patio Sets
For stainless steel and wrought iron patio furniture sets, we recommend good ole soap and water with a sponge or a soft bristle brush to avoid any scratching. Towel drying after will prevent any water marks or potential rust on products. This will also prevent the cover from sticking to the furniture so dry, dry, dry!
For wooden, wicker or teak patio sets, we recommend a soap and water mixture with the use of a soft brush for mild stains. To keep your wooden set looking like new, applying a sealant will help preserve the color of the wood as well as add extra protection for a few years. Typically, sealants only need to be applied every few years.
Plastic sets, which are the easiest to clean and maintain, can be sprayed with an all purposes cleaner and wiped down with a sponge or towel.
For fabric furniture, like a hammock for instance, these items can be placed in the washing machine with a mild detergent. Please be sure to check manufacturer's instructions to ensure your item does not have any special care instructions.
When attempting to use a power washer on your furniture, first ensure that the material is strong enough to withstand the strength of the power washer. For instance, this could cause denting or even chipping on some of the softer wooden sets. We highly recommend only using a power washer for very grimy surfaces that don't clean well with soap and water. Also, use the lowest setting on the power washer with a fan tip that sprays a wider area.
Cushions
Most cushions can be cleaned with mild soap and water, however some cushions. Like acrylic ones for instance require spot treatment only.  Again, please be sure to check manufacturer's instructions to ensure your item does not have any special care instructions.
Grills
For cleaning yout gas and charcoal grills, Weber has some great videos on their site with step by step instructions on how to make your grill sparkle!
Gas Grill- https://www.youtube.com/watch?v=ezXMv-lxpAw
 Charcoal Grill- https://www.youtube.com/watch?v=lq7dJqREFHM
Once you have properly cleaned and dried your pieces, it's time to securely store them away from the outdoor elements. You will want to shield them from rain, snow, wind and hail, basically any moisture, as it can be very harmful! Covering your pieces will prevent your furniture from aging faster and keep it looking new longer. We recommend covering your items with a furniture cover that is made with a durable fabric that i s water resistant, breathable and will not crack or peel. We carry a variety of coves that come in all different shapes and sizes, at our stores and online. this covers are also machine washable so once Spring hits you just remove the cover and toss it in the wash! We like the sound of that!
If you don't have covers for your patio furniture, we suggest storing them in a shed or garage if you have space. This will ensure you get the longevity out of your beautiful furniture and ensure you use it for many seasons to come!
So those are a few of our quick tips to making sure you store your furniture and grill correctly so you can enjoy it year after year!
---