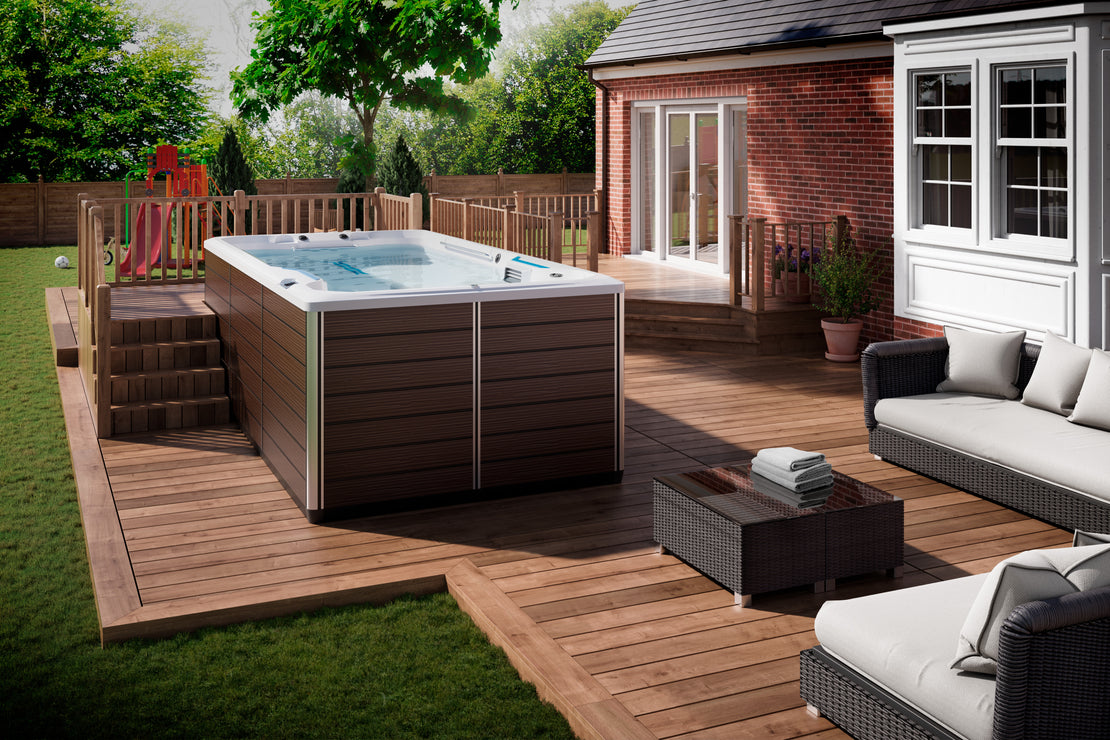 Considering an Endless Pools Swim Spa? Here are a few of the ENDLESS benefits they provide
"Endless Pools®  Fitness Systems combine beautifully functional design with advanced swim-in-place technology to create an at-home wellness system that doesn't compromise style for functionality." -Endless Pools
Endless Pools Fitness Systems offer an amazing option to those looking to better their lives with the best in aquatic exercise, family time, and relaxation! Here are a few ways on how an Endless Pools Fitness System can benefit your life!
Space Restraints? No problem!
If you have always wanted a pool but don't have the space for one, you've come to the right place! Endless Pools Fitness Systems are swim spas (varying from 15-20 feet in length) that still give you the capability to be able to swim as you would in a full-size pool. The hydraulic current allows you to swim in place and at a speed that is comfortable to your abilities! And because they are smaller in size, they can also be installed indoors!
They Are Easy To Maintain!
These swim spas are very easy to keep clean and maintain and do not require the same amount of chemicals as a full-size pool. Not only will this save you money in the long run, but also time!  
Enjoy Year-Round Swimming and Enjoyment!
For us Chicagoans, one of the greatest benefits of an Endless Pools Fitness System is the ability to use it year round! You can continue to swim even in the frigid Chicago winters! With Endless Pools, the temperature controls, insulation and pump efficiency, as well as the ability to cover the swim spa, all allow you to be ability to swim 365 days a year! Just set your pool at a comfortably warm temperature, and you're good to go! Sun or snow, your Endless Pool is ready when you are!
Great for the Whole Family!
Despite them being smaller in size than your typical pool, they are still very spacious, offering plenty of room for the whole family to enjoy at once! Plus, many of the models include a hot tub area apart from the swimming area to allow for exercise and relaxation usage at the same time! Giving you and your family more options to enjoy!
Health Benefits
Looking to improve cardio endurance, relieve stress, achieve a better night's sleep and soothe away aches and pains? With Endless Pools you can accomplish that and more! Exercise can be very hard on joints and muscles. But by using an Endless Pools Fitness System, you will no longer have those concerns! The rushing water creates resistance to give you a better workout, while also alleviating joint and muscle strain. Plus, these swim spas offer the benefits of aquatic therapy and physical rehabilitation in the private of your own home.
Sound like it's time for a swim spa? Have more questions? To get in touch with one of our knowledgeable Product Experts, get more information or schedule a test swim in an Endless Pools Fitness System, fill out this contact form or stop into any of our 9 Chicagoland locations today!
---