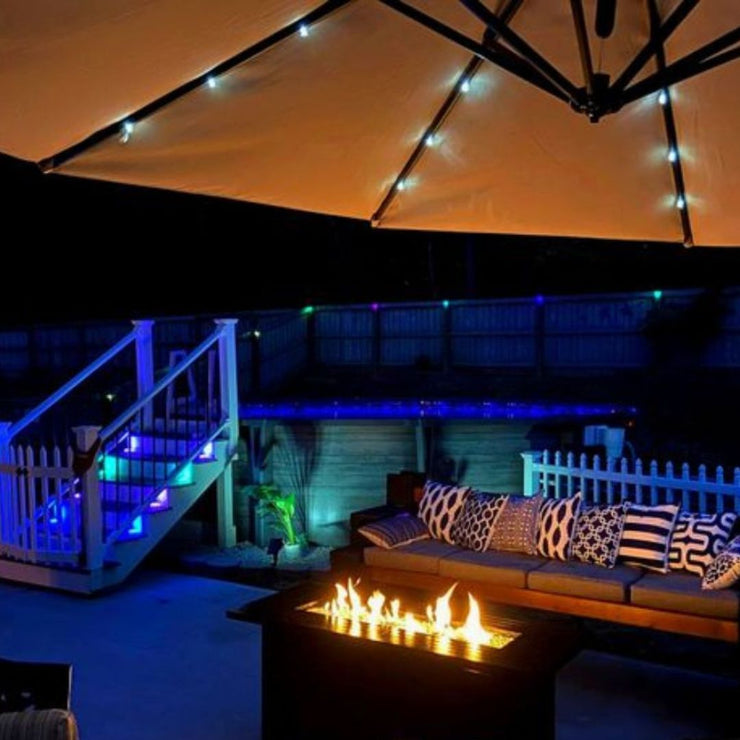 How To Extend Your Summer
As the vibrant hues of summer start to give way to the cozy embrace of fall, many of us find ourselves reluctant to say goodbye to the sun-soaked days spent poolside. Fortunately, there's a solution that allows you to stretch out those carefree moments and continue relishing the joy of swimming even as the temperatures begin to dip – the marvel of pool heaters. Pool and spa heaters transform your outdoor oasis into a year-round haven of aquatic delight. Whether you're a family seeking to maximize quality time or, a fitness enthusiast keen on maintaining your routine, or just want to enjoy your outdoor space, these solutions offer a gateway to extending summer's warmth and relaxation, so you don't have to say goodbye... just yet.
Pool Heaters 
The sleek and stylish Raypak Digital Gas Pool and Spa Heater features innovative technology designed to keep your pool or spa at the perfect temperature for your enjoyment. Built to withstand various weather conditions, this modern pool and spa heater is the perfect solution for environments requiring efficiency, convenience and versatility. Incorporating a heat pump into your pool setup prolongs the duration of enjoyable pool use, offering you an extended season of relaxation in the water. Incorporating a pool heater is an effective strategy for prolonging your pool season. Our suggestion is to open your pool in early spring and close it in late fall. Given that weather conditions during these times might not always be as preferred, installing a heater ensures that your pool remains inviting and functional from opening day to closing day!
Enjoy Your Outdoor Workouts - Year Round

Imagine a world where you can seamlessly achieve your fitness aspirations and unwind with soothing warm water hydrotherapy – all within the comfort of your own home, year-round, regardless of the forecast. For fitness enthusiasts committed to maintaining their regimen, swim spas present an ideal solution. These aquatic wonders provide an avenue to extend the joys of summer while nurturing your well-being.
The
E2000 Endless Pools® Fitness System
– a game-changer in the fitness arena. Designed to offer the pinnacle of swim-in-place experiences, it also comes with a dedicated spa side. This innovation empowers you to independently
control temperatures on both sides
, making this an ideal transition into the cooler months. Featuring the industry-leading Endless Pools Swim Machine and an optional underwater treadmill, this system offers a comprehensive fitness solution. Engage in invigorating swimming and running exercises, followed by a rejuvenating warm water hydrotherapy session. Your backyard transforms into a personal haven for activity and relaxation, accessible whenever you desire. Embrace the harmony of fitness and tranquility, all within the embrace of your very own swim spa. Plus, enjoy year-round enjoyment!
Enjoy Year-Round Water Comfort with a Hot Tub

Summer might be winding down, but guess what? Your water fun doesn't have to! Adding a spa to your backyard is like giving summer an extra-long hug.
As the transition from the warmth of summer to the crisp embrace of fall unfolds,
hot tub
heaters emerge as the ultimate means to continue indulging in aquatic pleasures from the coziness of your home. Regardless of the changing weather, your hot tub water remains delightfully warm, offering you a soothing oasis regardless of the temperature outside.
Whether it's for unwinding after a long day, relieving stress, or hosting cozy gatherings with loved ones, spas offer a unique and tranquil experience that enhances the joys of the seasonal transition.
Heaters & Fire Pits
Keep those summer vibes alive with an outdoor patio heater! Embrace cozy evenings and savor the warmth of the season a little while longer. This 
Glass Tube Propane Flame Outdoor Patio Heater
 features a mesmerizing glass flame tube that is guaranteed to liven up any atmosphere. The long-lasting, stainless steel finish is sure to catch the eye of your partygoers. Shop other heater models
here!
Discover a whole new way to savor the changing seasons with family and friends by introducing the innovative HotShot Wood Burning Fire Pit into your backyard oasis. Designed with simplicity and portability in mind, this fire pit is a game-changer. It harnesses the power of CleanAir Smokeless Technology, effectively reducing smoke by up to 70% when the wood remains below the pit's top edge. This means you can relish the HotShot's intense heat without the nuisance of excessive smoke and ash during those cozy and crisp summer evenings.
Compact and easy to transport, this smokeless fire pit is tailor-made for your backyard's transition from summer to fall. It's the perfect addition to your backyard setup, allowing you to embrace the beauty of the crisp, cool air while staying warm and comfortable.
---
 W
e hope these tips will help you savor summer just a little while longer! Shop every item in this blog in-store or online at AmericanSale.com
---