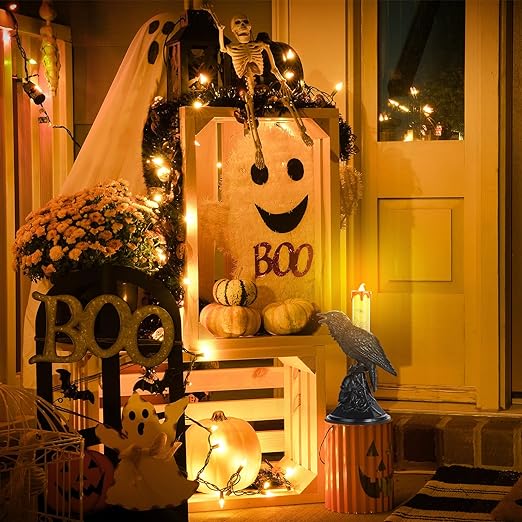 Halloween Décor Ideas
Embrace the enchantment of fall and get your home Halloween-ready! Decorating for Halloween can be a breeze by blending spooky elements with your existing décor. Whether you prefer eerie gore, adorable pumpkins, or bewitching accents, we've got decorations to match any style. With a few trendy Halloween touches, your home will be all set for the season!
When it comes to Halloween, it's all about going big or going home. Get ready to transform your home into a haunted haven that will leave your neighbors spellbound.
Spooky Halloween Tree
Spice up your décor with a Halloween tree – a delightfully creative way to embrace the season's spirit! Whether you're giving your Christmas tree an early makeover or opting for a dedicated Halloween tree, you can infuse your space with a whimsical, spooky charm. Simply adorn it with themed ornaments, cobwebs, and eerie lights for that perfect haunted touch!
Shop Artificial Special Color Christmas Trees Here 
Shop Multi-Color Glitter Ball Garland Here
Shop Boo Beaded Garland Here
Shop Halloween Spider Tree Topper Here
Shop Posable Hanging Skeletons Here
Shop Limeade Shatterproof Ornament Here
Shop Lime Green Glitter Ornament Here
Unleash the Magic with Spooktacular Lighting
Step into the world of enchantment with spellbinding lighting. Create an eerie ambiance with flickering candles and dimmed lights. Hang string lights shaped like bats or ghosts to add a touch of whimsy. And don't forget the jack-o'-lanterns – carve them with wickedly grinning faces and place them strategically to cast spooky shadows.
Shop Novelty Halloween Lights (Pictured) Here
Shop Black Gauze Garland w/Orange Lights Here
Shop Pumpkin Halloween Lights Here
Shop Halloween Tea Lights Here
Shop Color Changing Ghost Light Up Garland Here
Shop Flicker Pumpkin Candle Here
Outdoor Decor
Are you ready to turn your front yard into a haunted wonderland? Outdoor Halloween décor and inflatables are the perfect way to transform your home into a spooky spectacle that will have the whole neighborhood talking. Get ready to scare and delight trick-or-treaters with our ghoulishly good items!
Shop Nightmare Before Christmas Jack Skellington Inflatable (Pictured) Here
Shop Outdoor Hanging Horror Figures Here
Shop Light Up Peeping Skeleton Coffin Here
Shop Light Up Skeleton Arms Here Here
Shop Happy Halloween Porch Sign Here
Shop Mega Yard Web Here
Shop "Body In A Bag" Prop Decoration Here
Shop Giant 8' Reaper Inflatable Here
Indoor Decor
Why limit the fun to just the outdoors? With some creative indoor Halloween decor, you can turn your home into a haunted haven that will leave your guests spellbound. Get ready to spookify your space with these wickedly wonderful ideas!
Shop Giant Hanging Spider (Pictured) Here
Shop "Happy Halloween" Glitter Wreath Here
Shop Black Tinsel Garland with Holographic Pumpkins Here
Shop Bat/Pumpkin Holographic Wreath Here
Shop Pumpkin Shadow Scape Window Shade Here
Shop Halloween Bloody Gel Clings Here
Shop Decorative Halloween Garland Here
 Witchcore Décor 
Witchcore, the latest trending term, embraces an aesthetic steeped in witchcraft themes. Think tarot cards, sage, stones, skulls, bones, and potions as key elements to achieve this unique décor style. Check out our top witch themed decorations for the year!
Shop Witch Leg Grave Breakers Here
Shop Witch Door Hangers Here
Shop Witch Hat Tinsel Tabletop Decorations Here
Shop Witch Tree Hugger Here
Shop Witch Shadow Scape Window Shade Here
Shop Light Up Halloween Witch Hat Headband Here
Shop Wooed Witch Signs Here
Shop Wooded Engraved Witch Wall Signs Here
Shop Wooden Witch Halloween Easel Signs Here
.
 Halloween Spooky Town 
These sought-out, hand-made collectibles are always a Halloween favorite! Get creative with your Spooky Town display by adding new buildings, figurines, and other décor elements to create a unique set-up! 
Shop All and NEW 2023 Lemax Spooky Town Here
- - - - - 
With these tips and tricks, you're ready to turn your home into a spooktacular Halloween wonderland. Embrace the playful spirit of the holiday and let your imagination run wild. Remember, Halloween is the one time of year when it's perfectly acceptable to let your inner ghoul shine. So go ahead, get creative, and make this Halloween one to remember!
Shop All Halloween Here
---