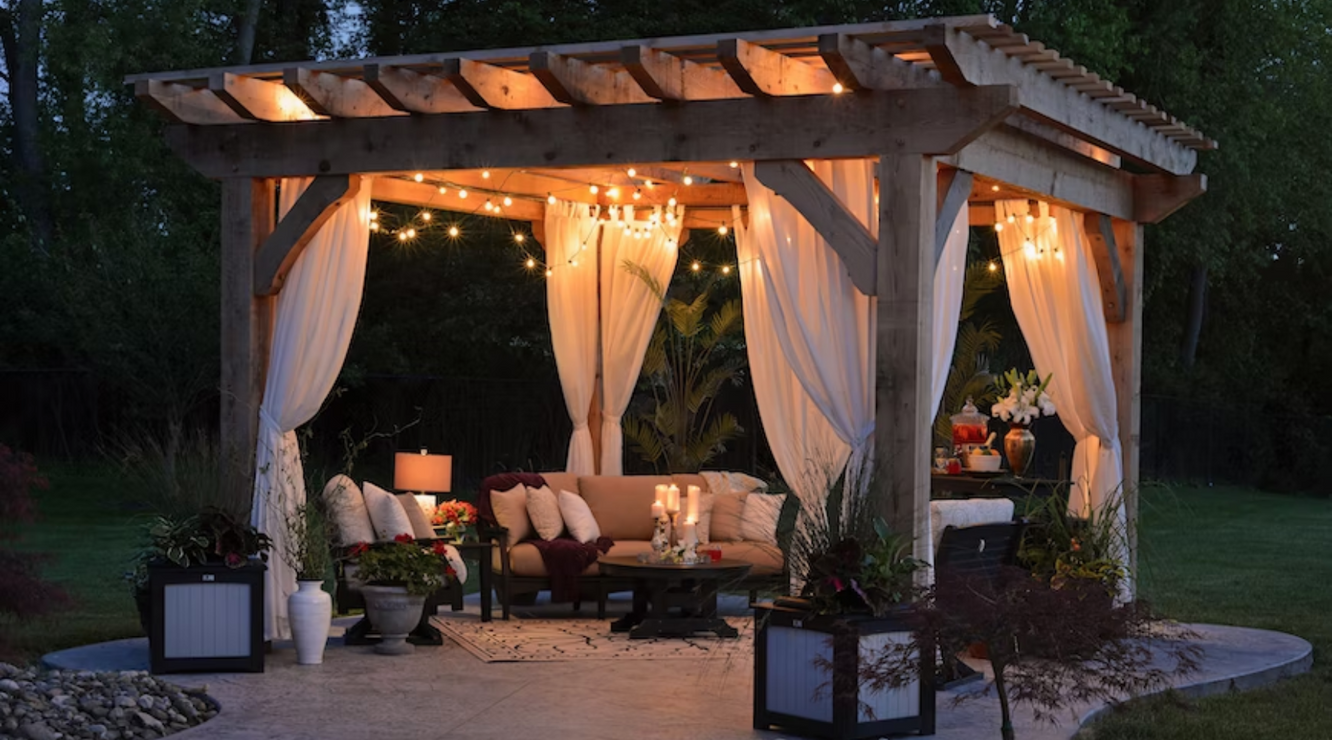 Fall Backyard Must Haves
With the crisp, cool weather approaching, it's time to transition your backyard into a fall-time oasis! Whether it's keeping cozy, limiting screen time for the kiddos or entertaining your guests, your backyard will be fall-ready in record time! Here are some products we think are essential to elevate this fall season. 
Quartz Glass Tube Propane Outdoor Patio Heater
This Glass Tube Propane Flame Outdoor Patio Heater features a mesmerizing glass flame tube that is guaranteed to liven up any atmosphere. The long-lasting, stainless steel finish is sure to catch the eye of your family and friends.
Fire Pit Table
This fire pit table will be a showstopper at your next gathering or cozy night in! Easily roast marshmallows, stay warm and enjoy the company of your friends and family by this low-maintenance fire pit table. A few chairs and rockers gathered around this fire pit will definitely up the comfort factor in your outdoor space too.
Raypak Natural Gas Pool Heater
Extend your pool season with a pool heater! Designed to keep your pool at the perfect temperature for your enjoyment. You can enjoy the cooler weather in the comfort of your heated pool. Whether it's keeping your kids and guests entertained and warm, this pool heater is a game changer for the fall season!
Hot Spring Highlife Collection Vanguard Hot Tub
Warm up this fall! The best seat in the house? That's every seat in the Hot Spring Highlife Collection Vanguard Hot Tub! Open and spacious, this family-friendly spa fits 6 with plenty of leg room. A full-body massage awaits you with 2 seats featuring patented Moto-Massage® DX jets, plus other targeted jets that soothe your neck, shoulders, back and feet. Perfect to unwind after a long day and perfect to entertain your guests.
LED Shatterproof Warm White Lights 
Create the perfect ambiance in your backyard this fall with these warm white LED string lights. The perfect decoration for your patio, pathway, garden, pergola, gazebo or outdoor set up.
LED Cluster Rice Lights
The perfect decoration for accenting your outdoor setup. These tiny 3mm bulbs light up with a beautiful starlight effect - you can make them dance and twinkle by choosing one of the 8 built-in functions. With the ability to connect twelve 6.8' sets, you can decorate just about anything. Perfect for outdoor or indoor use, these sets will stand up to even the harshest outdoor setting with crush-resistant construction, continuous-on technology, and secure coaxial connection.
Springfree Trampoline
Keeping the kids entertained and off their screens has never been easier! Your Springfree Trampoline can be used all year even during the harshest summers or the coldest winters! Named as the world's safest trampoline, safe backyard play is as easy as walking to your backyard! Springfree's springless design includes a SoftEdge Mat that is 30x more shock-absorbent, a FlexiNet to prevent any falls, and the frame positioned out of harm's way.⁠ Available in 9 different sizes, you can bring the fun home with any size backyard! 
Wicker Patio Set
Crisp, cool air is just around the corner. Stay warm & enjoy the company of your friends & family with a quality patio set and fire pit table this Fall. Upgrade your patio furniture with quality patio to last your for years to come! The perfect addition to your backyard oasis, that'll be sure to keep you and your loved ones nice & warm!
Natural Bamboo Tiki Torch 
Create ambiance outdoors and keep the bugs away with this Natural, Weather Resistant Bamboo TIKI® Torch. It stands 57" in height and is made of a sustainable material. This Tiki torch features an easy pour system that includes a wide-mouth canister to prevent messes. With each 12 oz. fill, it burns for up to five hours. It's ideal for use on your deck, patio, lined on a walkway or in your backyard.
Traeger Pro 575 Pellet Grill 
Having the perfect grill to keep your guests full and satisfied is always an essential for entertaining, especially during football season! The Traeger Pro Series has the best selling wood pellet grills in the world. The Traeger Pro 575 Pellet Grill features quicker start time with better smoke quality, so you can grill faster, more consistently and with better flavor! With a total cooking capacity of 575 sq. in. (fits approx. 4 chickens, 5 rib racks and 24 burgers)
Standing Propane Patio Heater
When the cool evenings come, don't stop your outdoor activities! This outdoor Standing Bronze Propane Patio Heater is all you need to keep entertaining outdoors, year round. Not only does this tall outdoor heater give you up 10 to 12 feet of warmth, it also provides you with an extra table for your patio area. The table is adjustable and can also be completely removed when not in use.

---