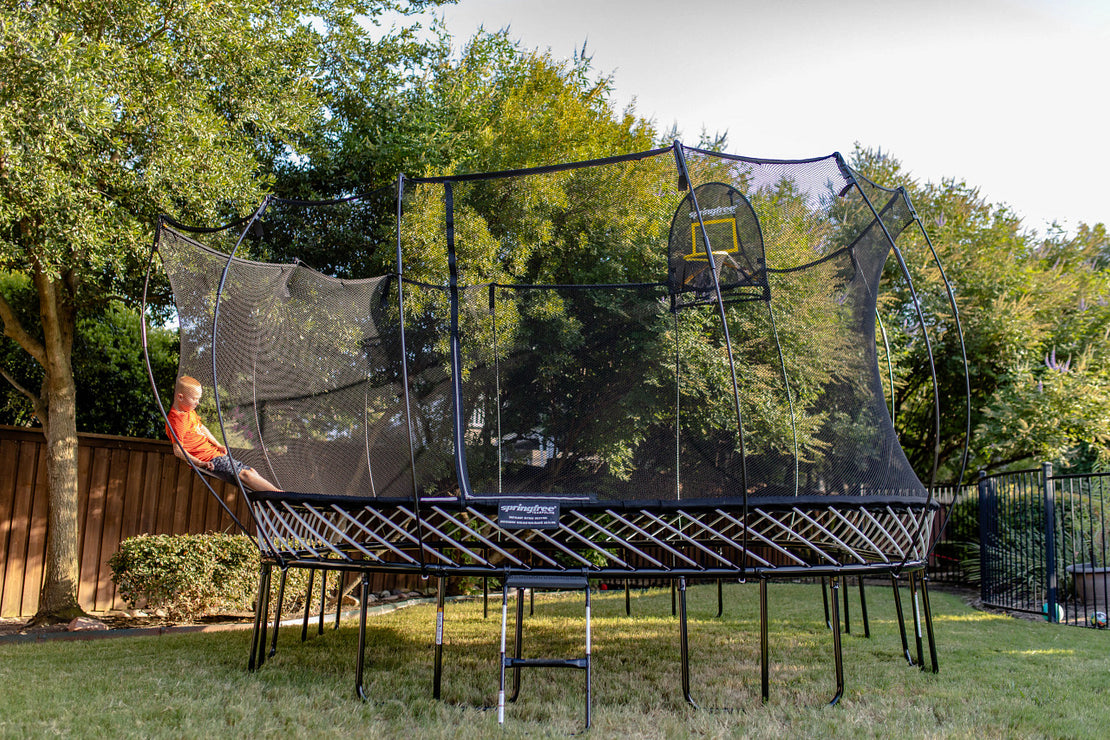 Springfree - America's Safest Trampoline
Safe backyard play is priority for parents and we get that! Springfree has put a tremendous amount of time and effort into the design of their trampolines and their accessories. The re-engineered design was built with three key concepts in mind; safety, quality and of course fun!
Springfree trampolines are not named "America's Safest Trampoline" for no reason. Springfree trampolines are engineered to eliminate 90% of all product related injuries. How so? 
No springs

 to pinch and trap hands and feet

Hidden frame

 that sits well below the jumping surface, out of harm's way 

SoftEdge™ Mat

 

that's 30x more shock-absorbent than pads

FlexiNet™

 enclosure and net rods that cushion jumpers and prevent falls
Not only is the Springfree Trampoline the safest trampoline, it's also made to last for years. The FlexiNet® and Mat are UV stabilized and tested to prevent deterioration from the sun and other harsh weather conditions. So your Springfree Trampoline can last for years to come, even during the harshest summers or the coldest winters. ⁠
Springfree trampolines are made with quality materials that stand the true test of time and are made to last for years of jumping. The rods featured on all Springfree trampolines are one of the main things that separate Springfree from the rest. The rods take place of what we know are springs on a traditional trampoline. Springs often pinch skin and can cause injuries which is why Springfree has eliminated springs all together and replaced them with unique rods. The Springfree mat is made from a material that has to pass a 5,000 hour UV test. This ensures that the material can withstand any weather conditions thrown its way. With the key concepts of safety, quality, and of course... fun, Springfree Trampolines are the perfect addition to any backyard!
Stop into one of our 8 American Sale store locations to

test jump

a Springfree Trampoline today!
---