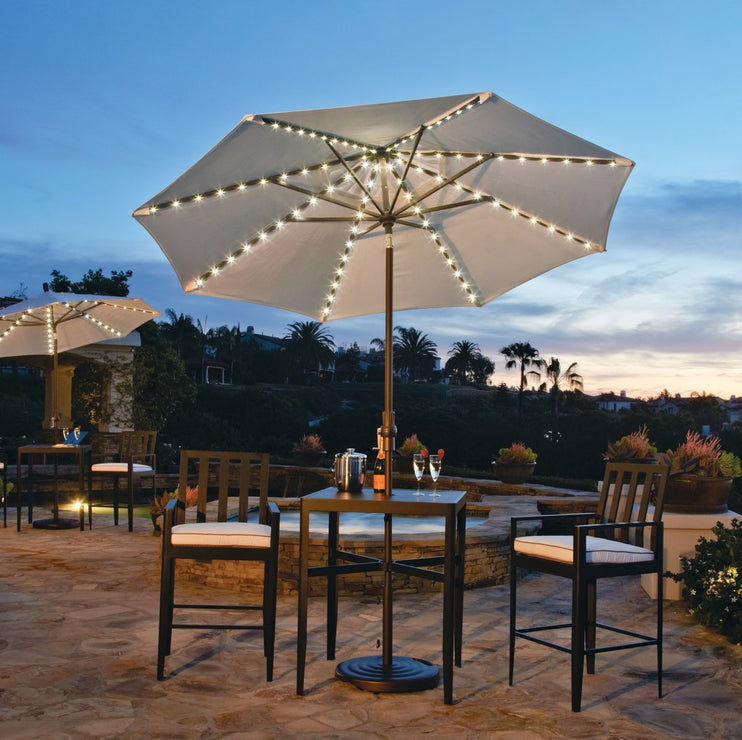 Small Backyard Upgrades that Make a Big Difference
Does your backyard need a bit of refreshing? Making a few small upgrades can make a huge difference in the atmosphere of your outside space! By swapping out old, weather-warn pieces, your yard can easily be transformed into the oasis you've always desired! Here's our favorite summer 2021 backyard upgrades that transform your space without breaking the bank.
9' Starlight Collar Tilt Umbrella
Upgrade your umbrella with this modern design that requires no need for extra light in the night. The 9' Starlight Collar Tilt Market Umbrella has lighting built into the ribs to create the perfect ambiance for your next party or gathering all night long. Add this to your backyard space and make all your guests feel like they're in VIP! 
Shop here (in-store only).
Artificial Shrubs
Add a modern, elegant element without all the maintence with an artificial shrub. The 48" Double Cedar Spiral is a decorative artificial topiary that is attractive and eye-catching. Tall and slender, it'll fit well in corners and areas with limited space, while filling those empty areas. Plus, you can use it all year round inside or outside!
Shop here.
Clear Globe String Lights
This set of outdoor clear, globe lights adds a warm and welcoming ambiance to any outdoor space! Whether you hang these under your gazebo, or string them across the house or fence, these lights never go out of style. 
Shop here.
Outdoor Table Screen Patio Enclosure
Struggling with annoying bugs after dark? This Outdoor Table Screen Patio Enclosure lets fresh air in and keeps those pests out. This patio shelter sets up easily over any patio umbrella to keep you protected. Enjoy the benefits of a screen porch for a fraction of the cost with this handy, lightweight, adjustable enclosure!
Shop here.
Solar Powered Bluetooth Rock Speaker
Bring the party to every corner of your backyard! This fully solar-powered Bluetooth-Enabled Rock Speaker is perfect for any outdoor area. While the speaker is portable and light-weight, it's also weather-resistant, designed to withstand extreme climate change. The rock design allows it to blend flawlessly into your landscape and its Bluetooth compatibility with 50 ft. range allows for easy connectivity with no need for wires.
Shop here.
Envirostone Umbrella Base
Upgrade your old umbrella base with one that matches your style! These 25lb  bases ensures your umbrella stays in tact, while adding a modern element with its elegant design. Also comes in white, black, sand & bronze (pictured) so it'll enhance any patio space!
Shop here.
65" Lattice Tiki Torch 
Create a paradise in your backyard with this 65" Lattice TIKI® Torch. Our natural flame torch helps set the mood and add a fun ambiance to your backyard or patio. The urban metal torch features a modern lattice design with a weather resistant one-piece pole. 
Shop here.
*******
We hope this gave you some patio/ / yard inspiration to make the most of your backyard space this summer! If you stop into any of our 8 Chicagoland locations until 4/25, we'll pay your sales tax (some exclusions apply). You read that right! Now is the time to create that oasis you've been waiting for!
---