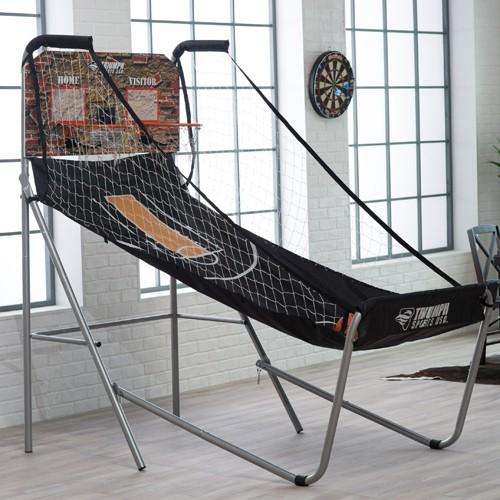 Uncommon Gift Ideas
Everyone is always looking for the perfect gift.  Whether it is a gift from Grandma or a hostess gift for your friends holiday party, it is difficult to find just the right gift. Giving out iTunes gift cards or bottles of wine is so overdone. So today I would like to give you some options that are not the usual standard gifts, but rather the "showstopper" gifts you will be remembered for!
For the Kids
We have a lot of great games for the kids that they are not going to find at all of their friends' houses.  Some great things about these games is that they will help them with hand eye coordination and promote development in teamwork and socialization. They also allow them to be more active rather than sitting on their phones, tablets, and video games.  The best part about these games are that they help kids with interactive playing! And they are great for family togetherness because they are fun for both kids and adults.
One of my favorites is our variety of Basketball double shot games.  These games have multiple features and timers that allow the kids to race to see who can make the most baskets in the allotted time. And the best part is seeing if Mom or Dad can outdo the kids on their highest scores! Our prices range from $89.99-$199 so it won't break the bank either!
http://www.americansale.com/Departments/Game-Room/Game-Tables/Indoor-Basketball-Games.aspx
Another great game that you don't see a lot anymore but is making a comeback in a huge way is foosball!  This game can be played by all ages!  The younger kids will love to knock the ball around and probably not even keep score, but still have a ton of fun with it.  And the older kids and adults will take the time to master the game and learn all the tricks of the trade to ride the path to victory.  Not many know this, but foosball is truly a game of skill just like billiards.  Our tables range from $299-$399.
http://www.americansale.com/Departments/Game-Room/Game-Tables/Foosball-Tables-Table-Soccer.aspx
A classic game room staple that everyone likes is air hockey!  We have a few different options, but one of our most popular tables is our 84" 3-In-1 Rotating Game Table. On one side you have air hockey and on the other is a pool table! Not only do you get those two games, you also get a ping pong top so you can play ping pong too! So you're really getting 3 games within one table! It saves a ton of room and is fun for all! This table is a great value at $699. 
http://www.americansale.com/Products/84-3-In-1-Rotating-Game-Table-by-Triumph-Sports-USA__126113.aspx

Hostess Gifts
Hostess gifts are always hard to get.  For one thing it is usually a last second thought and not top of mind.  Another thing is that it is always hard to find something that is not going to break the bank but is cute and not too cheesy looking.  The good news is that you are reading this now, so it will be not left to the last second for you and we have a lot of options for you to choose from.
A staff favorite that we have for hostess gifts are our Lighted Canvas Wall Art.  They run off of batteries so there is no need for any plugs or cords hanging in the way and with their soft warm glow, they really come to life in a beautiful way.  It is a great way to add some Christmas cheer to the house for the holiday season and we have a huge selection to choose from. There are a few available for purchase online with the link below. But we have a HUGE selection at our stores! Check it out! 
http://www.americansale.com/Departments/Christmas/Bobs-Bargains.aspx
So stop in today and find some amazing gift options for this Christmas! We are sure you will find plenty of great (and uncommon) items that will make everyone on your list happy this holiday season! 
Written by Rob Collins, Senior Manager, Orland Park Store
---