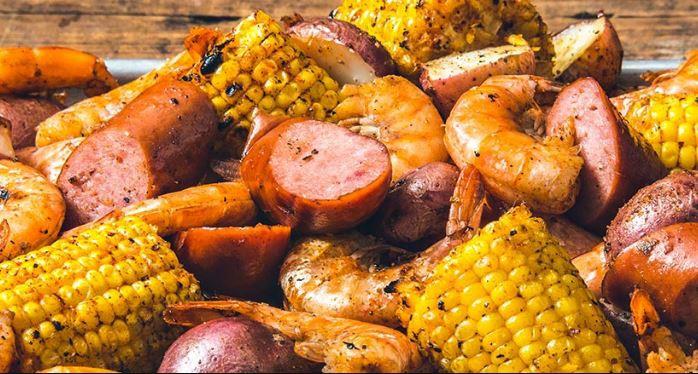 Traeger Cajun Broil
TRAEGER CAJUN BROIL
Sausage, potatoes, corn, and shrimp are all roasted on the Traeger, then tossed together for a broil so flavorful you won't soon forget!
DIFFICULTY: 2/5
PREP TIME: 30 MINS
COOK TIME: 90 MINS
SERVES: 8 - 12
HARDWOOD: PECAN
INGREDIENTS
2 LB RED-SKINNED POTATOES
6 EARS CORN, EACH CUT INTO THIRDS
2 LB SMOKED KIELBASA SAUSAGE
3 LB LARGE SHRIMP, DEVEINED WITH TAILS
OLD BAY SEASONING
PREPARATION
When ready to cook, start Traeger on Smoke with the lid open until the fire is established (4 to 5 minutes). Set the temperature to 275 degrees F and preheat, lid closed, for 10 to 15 minutes. 
Cook sausage directly on grill grate for one hour or until internal temperature reaches 165 degrees F.
Increase temperature of the grill to High. Lightly season potatoes and corn with Old Bay Seasoning. Roast until tender. 
Season shrimp with Old Bay seasoning. With grill still on High, grill shrimp directly on grill grate for 15-20 minutes, or until the internal temperature reaches 125 degrees F. 
Combine all cooked ingredients into a large bowl and toss together.
Season with more Old Bay Seasoning to taste and serve immediately. Enjoy!
Original Recipe Link: http://www.traegergrills.com/recipes/seafood/traeger-cajun-broil 
---