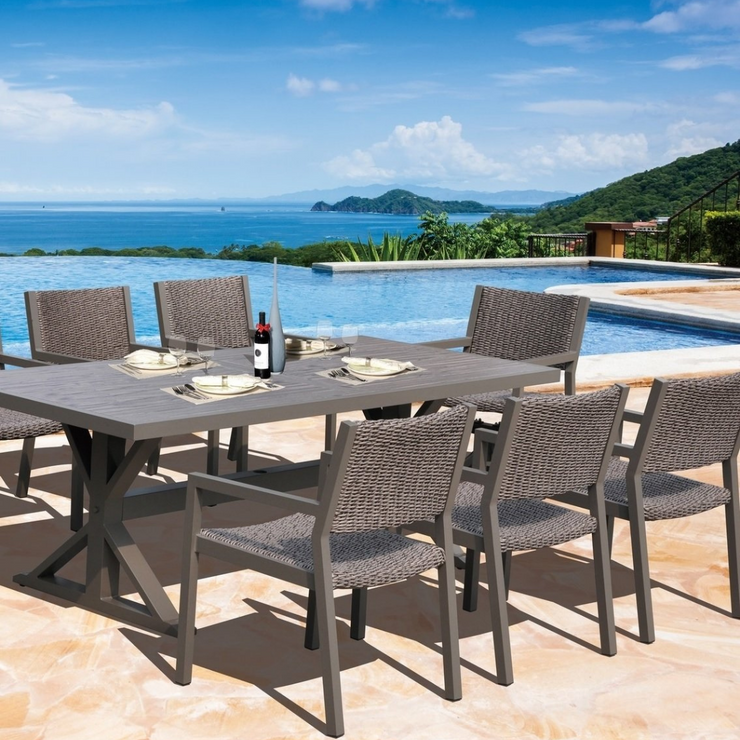 WHICH PATIO FURNITURE MATERIAL IS THE BEST FIT FOR YOU?
With spring right around the corner, now is the perfect time to get your backyard ready for the warmer days ahead! Get a head start and start creating your dream outdoor living space. Utilizing your outdoor space is a great way to de-stress after a long day. Whether you want a patio set that is the perfect place to entertain guests, relax poolside, or even dine with the family, we have styles, finishes, and materials for any space, budget, and lifestyle! The first decision that needs to be made when considering what patio furniture you would like to purchase is the material of the furniture that would best suit your lifestyle. Some patio furniture materials require more love and care than others, while some materials are low-maintenance and are made to withstand harsher conditions.
Wicker 
Patio furniture made out of wicker is perfect if you prefer earthy toned colors and a more neutral aesthetic. Wicker is fairly easy to care for and doesn't require much maintenance. Wicker can withstand weather conditions like rain, snow, and even humidity. American Sale carries wicker patio furniture that is constructed to prevent damage from UV rays, keeping your furniture the same color you bought it and prevents any cracking! 
Cast Aluminum
If you are in the market for something durable and low-maintenance, look no further. Patio furniture made out of aluminum is the perfect fit for you. Not only is aluminum highly rust resistant, but it's also great for withstanding harsh weather conditions. It is extremely durable and the powder-coated aluminum frame will not rust, peel, or crack. Aluminum is lightweight, making rearranging your furniture when you want, super easy!
Steel
Steel is the right fit for you if you are in the market for something sturdy yet retro. Steel is one one of the strongest materials offered in patio furniture. Although it won't be as easy to move around due to its heavy weight, you won't have to worry about any of your furniture flying away in the wind. It is a great option if you are looking for something durable that can withstand extreme temperatures, whether that be in the summer or winter. 
Iron
Wrought iron is known to give you heftiness and durability in your patio furniture. It is a beautiful finish that can give your backyard the look you're going for. Like steel, iron is also known for its heavy weight, making any worries about the wind taking out your furniture, a problem in the past. Usually treated with finishes that help maintain their look and durability, iron requires a level of attention and care. It is best to keep iron out of any wet weather conditions such as rain or snow, as they are more prone to rusting. No need to worry if you end up spotting any rust. All you need to do is sand down the rusted area and touch it up with some paint! 
Resin
Resin is the perfect material if you're looking for something low-maintenance at an unbeatable value. Designed for easy-care maintenance, the all-weather UV-protected polypropylene resin will not unravel, fray, or fade. It is weather resistant and can be easily cleaned if needed. Whether its poolside in your backyard or at the beach, resin furniture is waterproof and the perfect fit. 
---