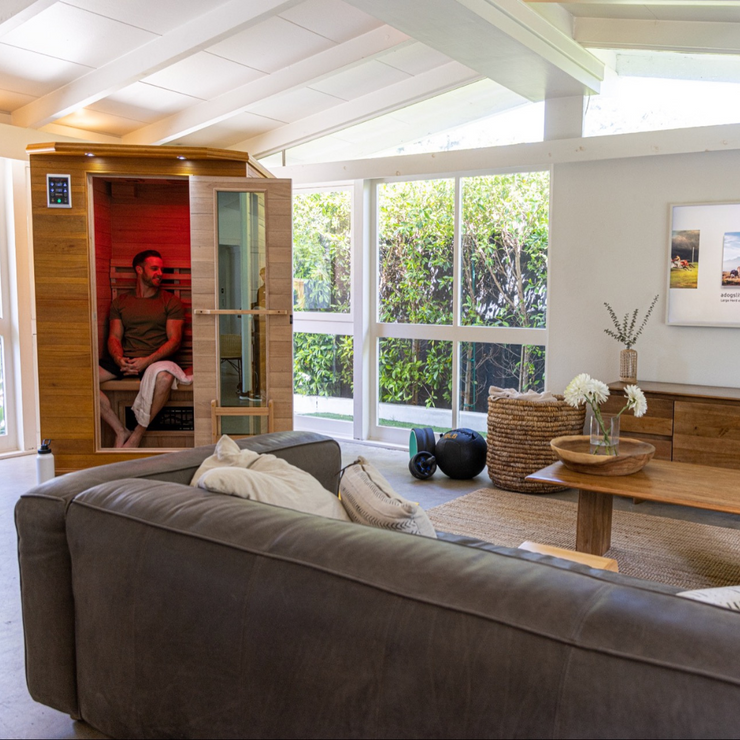 Why HealthMate Saunas?
HealthMate introduced the first infrared sauna to the United States in 1979 and now manufactures and distributes more infrared saunas than anyone else. Making them the undisputed leader of the infrared sauna industry! 
All HealthMate Saunas are made from Eucalyptus wood for durability, not engineered or fabricated wood. Eucalyptus wood improves the quality and feel of the sauna and is also a sustainable eco-friendly choice that offers a non-toxic, anti-microbial properties ensuring a healthy, safe, and comfortable environment. Using a HealthMate sauna is as easy as plugging it into an outlet! It fits in any open space such as a living room, basement, sun room, etc. 
HealthMate Saunas feature full spectrum coverage. Infrared heat is produced from a spectrum of powerful wavelengths, and with the combined intensities of near, mid, and far-infrared, you receive the maximum health benefits and relaxation. 
The HealthMate advantage is in the patented, especially designed heaters 
feature high-watt, full-circle heat second to no other infrared sauna on the market.
Color Light Therapy
There's a reason HealthMate saunas are #1 in the infrared sauna industry. HealthMate saunas include chromotherapy, also known as color light therapy. Chromotherapy has been proven to improve our health by targeting treatments at different parts of the body. Each color poses different purposes.
(See image below)
Not only does chromotherapy contribute to ones physical health, but also to ones overall mental well-being. Both important factors to living a healthy life. 
Benefits of an infrared sauna vs a steam sauna
Many people are familiar with steam saunas as opposed to infrared saunas. Infrared saunas use heaters that emit light from the electromagnetic spectrum. This intense infrared light therapy, generates heat that is absorbed by the skin. This is different from traditional steam or dry saunas that heat the air surrounding you. Infrared saunas have more benefits than a steam sauna such as ...
7X more toxins released
2X-3X more sweat
1.5"– 3" deeper heat penetration in muscles
Infrared Sauna heaters achieves full muscle penetration after 30 minutes which takes much longer to do in a Steam Sauna
All of these benefits are achieved at a lower temperatures which allows you to spend more time comfortably in an Infrared sauna vs a steam sauna
Health Benefits of using a HealthMate Sauna 
Some health benefits that can be gained from using a HealthMate sauna include...
Stress Relief
Anxiety Relief
Pain Relief
Promotes relaxation and induces deeper sleep
Detoxification
Fights illness and relieves sinus congestion
Weight loss due to burning calories - 200-600 calories burned in a 30 minute session
Provides cardiovascular conditioning
Inflammation Reduction
Relieves muscle spasms
Decrease in Joint Stiffness
Collagen Production to keep skin healthier and younger
Balances and releases hormones to improve focus
Invest in your wellness today and shop HealthMate Sauna models in-store or online at AmericanSale.com
---