Hot Spring Highlife Collection Envoy Hot Tub
Pricing Guide
Due to Vendor regulations, American Sale is not permitted to post actual pricing online. Actual prices will vary based on options, accessories, installation costs, destination charges, finance charges, taxes and other factors. Please fill out the form below to get in touch with one of our Product Experts or visit your
nearest American Sale
for a price quote, and to take advantage of ongoing promotions and offers!
Questions? Talk to an expert today!
Please fill out the form and dropdown below:
Ready to see more? Request a brochure
ROOMY LOUNGER
The generous footprint of the Hot Spring Highlife Collection Envoy Hot Tub makes this our largest luxury lounge spa with room for 5. The deep seats and full-body massage features include a Moto-Massage® DX jet and a captain's chair with wrist jets.
ENVOY JET SYSTEM
The Envoy Jet System offers an incredible 55 jets that relieve-tension in targeted areas including your back, neck, shoulders and calves.
---

Spa Packages, Prices and Custom Orders are available In Store Only!
ENVOY® HOT TUB SPECIFICATIONS
People
5 Seats
Dimensions
8'4" x 7'7" x 38"
(254 cm x 231 cm x 97 cm)
Weight (Dry)
785 lbs. (355 kg)
Weight (Filled)
5455 lbs. (2480 kg)
Operating Capacity

455 gal. (1725 L)


Total Jets
55


(2) Moto-Massage® DX
(2) SoothingStream®



(5) JetStream®



(2) Rotary Hydromassage


(2) Directional Hydromassage


(6) Hydrostream®


(4) Rotary Precision®


(30) Directional Precision®


Comfort Control®


SmartJet® System
Jet Pump 1
Wavemaster® 9000
One-Speed
2.5 HP Continuous Duty
5.2 HP Breakdown Torque
Jet Pump 2
Wavemaster® 9200
Two-Speed
2.5 HP Continuous Duty
5.2 HP Breakdown Torque
Voltage
230 V
Control System
IQ 2020® with
Wireless Remote Touchscreen
230 V / 50 amp, 60 Hz
Includes G.F.C.I. Protected Subpanel
Circulation Pump
SilentFlo 5000®
Water Care System
FreshWater® Salt System Ready
100% No-Bypass Filtration
High-Flow Tri-X® Filters
Filtration Area
325 sq. ft.
Insulation
Multiple Layers of Urethane Foam
Proprietary Heater
Titanium No-Fault® 4,000 W / 230 V
Custom-Fit Insulated Cover
3.5" to 2.5" Tapered, 2-Pound Density Foam Core with Hinge Seal
Bottom Seal
Insulated Polymeric Base Pan
Energy Standards
Meets California Energy Commission (CEC) and APSP 14 Energy Efficiency Standards for Portable Spas
Water Feature
BellaFontana® with Three Illuminated Arcs of Water
Lighting System - Interior
Customizable LED Zone Lighting
Lighting System - Exterior
Multi-Color LED Lighting with Timer
Optional Accessories
Smart Spa Technology
Bluetooth® Music System
Subwoofer
CoolZone™ Cooling System
FreshWater® III Ozone System
Highlife® Collection Step
CoverCradle®, CoverCradle II, UpRite®, Lift 'n Glide®
---
Spa Packages, Prices and Custom Orders are available in Store Only!
HOT SPRING JET PHILOSOPHY
Hot Spring designs spas based on how you will actually use them. The ComfortControl® system lets you customize the strength of massage. The SmartJet® system allows you to direct power to the jets you are using, instead of powering all the jets at once.
LEGENDARY HOT SPRING® MASSAGE
Comfortable seats with purposefully arranged jet systems work together to target specific muscle groups. The result is a distinctive massage from your neck to your shoulders, back, wrists, calves and feet:
Every Highlife Collection spa features the Moto-Massage® DX jet that provides two powerful streams of water that sweep up and down the length of your back – there is nothing else like it
Precision jets work together in a powerful cluster to relieve tension in your back, neck and calves
Directional Hydromassage jets provide targeted relief to problem areas with easy-to-adjust nozzles
ENERGY EFFICIENCY
Highlife Collection spas offer the very best in efficiency and energy saving design – which is why they call these models Super Energy Efficient. Your spa will be hot and ready when you are, while keeping energy costs low.
SAVING YOU MONEY
Highlife Collection models feature the complete Energy Smart® system. Every aspect of the spa has been optimized to create heat efficiently and maximize heat retention.
Totally insulated with multiple layers of foam to lock in heat
SilentFlo 5000® circulation pump that uses less energy than a 40 watt light bulb
Custom-designed spa covers with an exclusive hinge seal to lock in heat
The No-Fault® heater that maximizes heat transfer and is covered by an unconditional 5-year warranty
A pump shroud captures heat from the equipment compartment and transfers it to the water
SmartJet® system lets you direct power only to the jet groups you want to use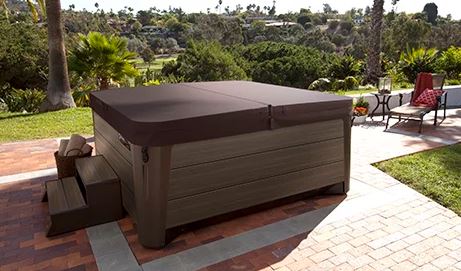 CLEANER SPA WATER
Crystal clear spa water is essential to your soaking experience, which is why we offer Hot Spring hot tubs. They have invested in innovations in filtration and water care that keep your Highlife Collection spa water clean with as little work as possible.
FRESHWATER™ SALT SYSTEM
This easy-to-use system eliminates the worry of keeping water clean, clear and sanitized for a full year. With just a little salt in your spa water, the system generates chlorine automatically and keeps water feeling soft without harsh chemical odor. This unique system makes spa ownership easier than ever by removing the guesswork and hassle of water care maintenance.
INDUSTRY LEADING FILTRATION
Only Highlife Collection hot tubs offer 100% No Bypass Filtration, and up to 325 square feet of effective filtration area with exclusive, dishwasher-safe Tri-X® filters. The number of filters is matched to the power of the jet pumps to provide balanced filtration, allowing 100% of your spa water to pass through the filters 100% of the time – even when the jets are on, which is when other spas bypass the filters.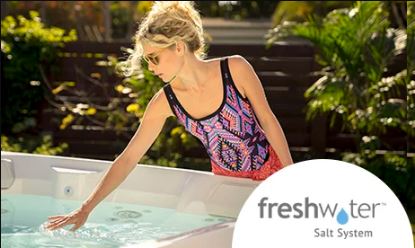 THE ABSOLUTE BEST HOT TUB OWNERSHIP EXPERIENCE®
You can count on lasting quality and unparalleled customer care from a global network of dealers dedicated to providing you with an extraordinary ownership experience.
COMMITTED TO OUR CUSTOMERS
Hot Spring's dedication to high-quality construction and unparalleled customer care means you can enjoy your Hot Spring spa for years to come. You can count on support from our experienced professionals and the straightforward warranties to ensure your spa is always running at its best.
VISUALLY STUNNING
The Highlife Collection redefines how a hot tub can look. Comfortable, sculpted seating and stylish design details work together to create a design that's more like furniture than a hot tub.
Walnut and Driftwood cabinets feature a subtle grain pattern
Brushed Nickel and Bronze finishes give a unique metallic effect
Sandstone and Shale cabinets have stone-like texture
Elegant, complementary shell colors selected by design experts
Comfortable, sculpted seating and stylish details throughout
Wireless, waterproof remote control for ease of use from any seat
Customizable zone lighting to create the perfect ambiance inside or outside the spa
FINANCING OPTIONS
GET INSIGHT ON OUR FINANCING SUGGESTIONS THAT APPLY TO YOUR NEEDS
learn about financing