Hot Spring Hot Spot Collection Relay Hot Tub
Pricing Guide
Due to Vendor regulations, American Sale is not permitted to post actual pricing online. Actual prices will vary based on options, accessories, installation costs, destination charges, finance charges, taxes and other factors. Please fill out the form below to get in touch with one of our Product Experts or visit your
nearest American Sale
for a price quote, and to take advantage of ongoing promotions and offers!
Questions? Talk to an expert today!
Please fill out the form and dropdown below:
Ready to see more? Request a brochure
STYLISH COMFORT
With seating for 6, cushioned headrests and 40 targeted jets, there's plenty of room for you, friends and family to relax in the 360-gallon Hot Spring Hot Spot Collection Relay Hot Tub. This value-packed spa is FiberCor® insulated and comes with a NoFault® heater. It also comes with dimmable multi-color LED lights for added ambiance.


NEW & IMPROVED DESIGN
The 2020 Relay has been upgraded to include a factory-installed Bluetooth amplifier, eliminating the need for it to be field installed. It has also been designed with new 1.5" speakers for improved sound quality. New spacious seating and larger pillows contribute to a fresh and contemporary visual. Even the spa valves and suction fittings have been redesigned to complement the new look.
RELAY JET SYSTEM
The Relay Jet System offers an incredible 40 jets that relieve-tension in targeted areas including your back, neck, shoulders and calves.
Spa Packages, Prices and Custom Orders are available In Store Only!
RELAY® HOT TUB SPECIFICATIONS
People
6 Seats
Dimensions
7' x 7' x 36"
(213 cm x 213 cm x 92 cm)
Weight (Dry)
830 lbs. (375 kg)
Weight (Filled)
4715 lbs. (2140 kg)
Operating Capacity

340 gal. (1290 L)


Total Jets
40


(3) XL Directional Hydromassage
(2) XL Rotary Hydromassage



(3) Directional Hydromassage



(2) Rotary Hydromassage


(30) Directional Precision®


Comfort Control®
Jet Pump 1
Wavemaster® 6200
Two-Speed
1.5 HP Continuous Duty
3.2 HP Breakdown Torque
Jet Pump 2
Wavemaster® 6000
One-Speed
1.5 HP Continuous Duty
3.2 HP Breakdown Torque
Voltage
230 V
Control System
IQ 2020® with LCD Control
230 V / 50 amp, 60 Hz
Includes G.F.C.I. Protected Subpanel
Water Care System
FROG® In-Line Cartridge Ready
Polyester Filters with Free-Flow Core
Features a Floor Drain
Filtration Area
65 sq. ft.
Insulation
FiberCor®
Proprietary Heater
No-Fault® 4,000 W / 230 V
Custom-Fit Insulated Cover
3.5" to 2.5" Tapered, 2-Pound Density Foam Core with Hinge Seal
Bottom Seal
Polyethelyne Sealed Bottom
Energy Standards
Meets California Energy Commission (CEC) and APSP 14 Energy Efficiency Standards for Portable Spas
Water Feature
Waterfall
Lighting System - Interior
Multi-Color LED Points of Light
Lighting System - Exterior
Multi-Color LED Lighting with Timer
Optional Accessories
Smart Spa Technology
Bluetooth® Music System
Subwoofer
FreshWater® III Ozone System
Hot Spot® Collection Step/Polymer Step
CoverCradle®, CoverCradle II, UpRite®, Lift 'n Glide®
---
Spa Packages, Prices and Custom Orders are available in Store Only!
DESIGN
BEAUTIFY YOUR SPACE
Designed to delight the senses, each spa features eye-catching finishes, dramatic LED lighting, sleek metallic corners, and distinctive design details. Subtly embossed cabinets evoke the beauty of natural materials with the durability of advanced composites. Choose from a soothing color palate that follows current design trends and complements your indoor and outdoor space.

A large bartop, contoured seating, and integrated pillows complement the overall design for a unique and on-trend look.
MASSAGE
COMPLETE HYDROTHERAPY EXPERIENCE
Every aspect of your spa is precision engineered to deliver the ultimate massage experience. Ergonomically designed shells are shaped to fit the body's contours and position you to make the most of our legendary Hot Spring hydromassage systems. Our SmartJet® system lets you direct power only to the jets groups you want to use for a personalized massage.
You'll emerge energized and inspired – ready to be your best.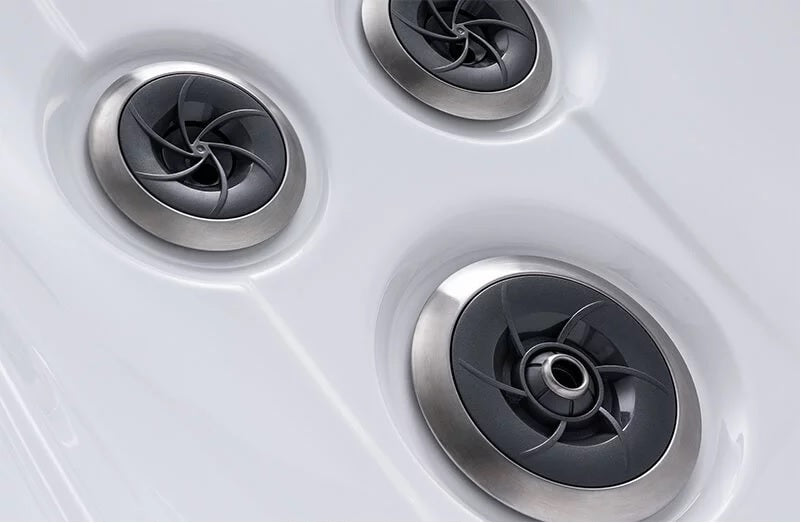 WATER
EASY WATER CARE
Hot Spot® Collection spas come ready for the FROG® @ease® in-line sanitizing system. Pre-filled cartridges with SmartChlor® technology and minerals self-regulate to keep water crystal clear with less effort. @ease creates softer feeling water that's virtually free of chemical odors since the system works with up to 75% less chlorine.*
**Compared to the minimum ANSI recommended chlorine level of 2.0 ppm in a hot tub.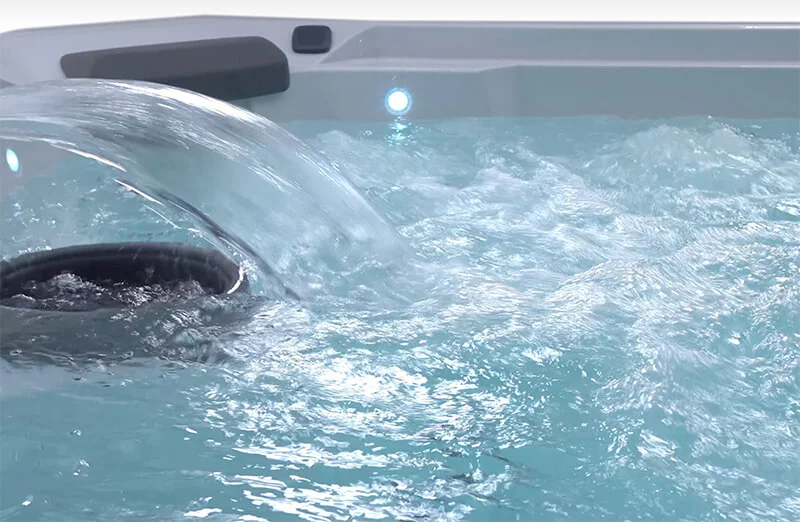 ENERGY
MONEY-SAVING EFFICIENCY
Use your spa every day with features that work together as part of the Energy Smart® system to keep energy costs down. FiberCor® insulation completely fills the spa cabinet with insulation that's four times more dense than standard half-pound foam. Custom-designed, insulating spa covers provide a tight seal to lock in heat. And our patented No-Fault® heater maximizes heat transfer to the water. Your spa will be there for you, hot and ready with money-saving efficiency.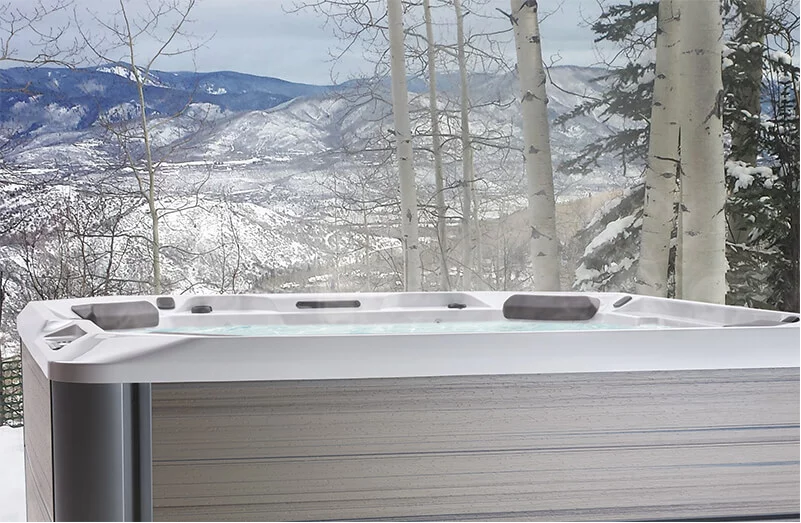 QUALITY
THE ABSOLUTE BEST HOT TUB OWNERSHIP EXPERIENCE®
For more that 40 years, Hot Spring Spas built their reputation on quality and are consistently recognized for outstanding quality and value. Dedication and experience add up to unsurpassed quality and reliability for you and your family. Make your spa part of your daily wellness routine, you can count on it to be hot and ready when you are, for years to come.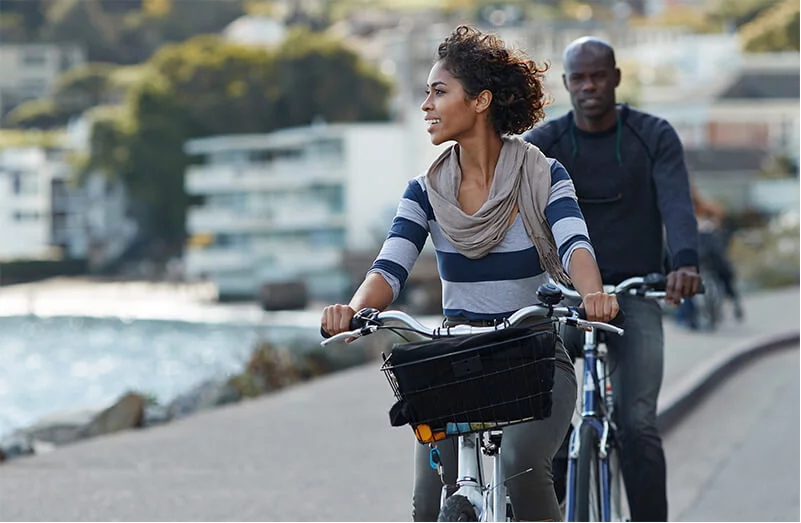 FINANCING OPTIONS
GET INSIGHT ON OUR FINANCING SUGGESTIONS THAT APPLY TO YOUR NEEDS
learn about financing