Hot Spring Limelight Collection Flash Hot Tub
Pricing Guide
Due to Vendor regulations, American Sale is not permitted to post actual pricing online. Actual prices will vary based on options, accessories, installation costs, destination charges, finance charges, taxes and other factors. Please fill out the form below to get in touch with one of our Product Experts or visit your
nearest American Sale
for a price quote, and to take advantage of ongoing promotions and offers!
Questions? Talk to an expert today!
Please fill out the form and dropdown below:
Ready to see more? Request a brochure
A REJUVENATING EXPERIENCE
The open-seat design of this Hot Spring Limelight Collection Flash Hot Tub creates a spacious interior that accommodates up to 7 people in this spa with a conservative 7' x 7' footprint. A pod in the footwell houses 4 precision directional jets for a foot massage in nearly every seat.
FLASH JET SYSTEM
The Flash Jet System offers an incredible 41 jets that relieve tension in targeted areas including your back, neck, shoulders and feet.
Spa Packages, Prices and Custom Orders are available In Store Only!
FLASH® HOT TUB SPECIFICATIONS
People
7 Seats
Dimensions
7' x 7' x 36"
(213 cm x 213 cm x 91 cm)
Weight (Dry)
845 lbs. (385 kg)
Weight (Filled)
5070 lbs. (2300 kg)
Operating Capacity

360 gal. (1365 L)


Total Jets
41
(1) XL Dual Rotary



(3) XL Single Rotary



(1) XL Directional


(4) Standard Single Rotary


(4) Standard Directional


(28) Directional Precision®


Comfort Control®


SmartJet® System
Jet Pump 1
Wavemaster® 8200
Two-Speed
2.0 HP Continuous Duty
4.0 HP Breakdown Torque
Jet Pump 2
Wavemaster® 8000
One-Speed
2.0 HP Continuous Duty
4.0 HP Breakdown Torque
Voltage
230 V
Control System
IQ 2020® with
Color LCD Control
230 V / 50 amp, 60 Hz
Includes G.F.C.I. Protected Subpanel
Circulation Pump
SilentFlo 5000®
Water Care System
FreshWater® Salt System Ready
Dual-Action Filtration
Filtration Area
100 sq. ft.
Insulation
FiberCor®
Proprietary Heater
Titanium No-Fault® 4,000 W / 230 V
Custom-Fit Insulated Cover
3.5" to 2.5" Tapered, 2-Pound Density Foam Core with Hinge Seal
Bottom Seal
Polyethelyne Sealed Bottom
Energy Standards
Meets California Energy Commission (CEC) and APSP 14 Energy Efficiency Standards for Portable Spas
Water Feature
Vidro® Backlit Ribbon Waterfall
Lighting System - Interior
Multi-Color LED Points of Light
Lighting System - Exterior
Multi-Color LED Lighting with Timer
Optional Accessories
Smart Spa Technology
Bluetooth® Music System
Subwoofer
CoolZone™ Cooling System
FreshWater® III Ozone System
Limelight® Collection Step/Polymer Step
CoverCradle®, CoverCradle II, UpRite®, Lift 'n Glide®
---
Spa Packages, Prices and Custom Orders are available in Store Only!
POWERFUL JETS
Limelight® Collection spas are designed to feel as good as they look. Comfortable seats feature powerful jets that massage from your shoulders to your toes, providing targeted relief to help you feel your best.
LEGENDARY HOT SPRING® MASSAGE
Limelight® Collection spas feature comfortable seats with purposefully arranged jet systems that work together to target specific muscle groups. The result is a distinctive massage from your neck to your shoulders, back, wrists, calves and feet.
Combination XL jets provide a broad, robust massage to relieve tension in large areas, and can be adjusted to provide a direct stream or rotating massage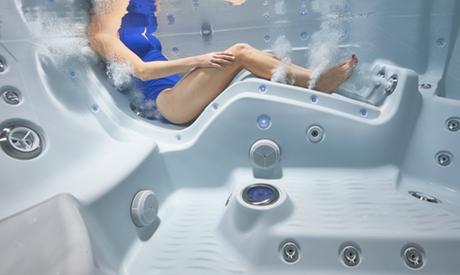 MONEY-SAVING ENERGY EFFICIENCY
Limelight Collection spas feature an Energy Smart® System to reduce energy consumption. You can have peace of mind knowing that your spa will be hot and ready when you are, while keeping energy costs low.
LOCKS IN HEAT
Limelight® Collection spas feature FiberCor® insulation, which is provides 4 times denser than standard ½ lb. foam. Combined with other energy-efficient features, Limelight Collection spas lock in heat to reduce monthly energy costs. Limelight Collection spas offer the following Energy Smart® features:
Custom-designed spa covers offer an exclusive hinge seal to lock in heat
SmartJet®

system lets you direct power only to the jet groups you want to use
EASY WATER CARE
Limelight® Collection models offer the option to have easy-to-use water care systems that help you spend less time maintaining your spa and more time enjoying it.
FRESHWATER® SALT SYSTEM
This easy-to-use system eliminates the worry of keeping water clean, clear and sanitized for a full year. With just a little salt in your spa water, the system generates chlorine automatically and keeps water feeling soft without harsh chemical odor. This unique system makes spa ownership easier than ever by removing the guesswork and hassle of water care maintenance. Learn More.
FRESHWATER® OZONE SYSTEM
Keep your water clean and clear, while reducing the need for chlorine. This system combines the cleaning power of the FreshWater® III high-output ozone generator with MPS non-chlorine oxidizer and silver ions for protection against contaminants. Learn More.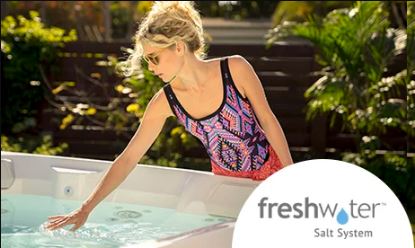 ABSOLUTE BEST HOT TUB OWNERSHIP EXPERIENCE®
No matter which model you select, you can count on superior quality, comprehensive warranties and outstanding customer care from our experienced dealers.
COMMITTED TO OUR CUSTOMERS
Our dedication to high-quality construction and unparalleled customer care means you can enjoy your Hot Spring spa for years to come. You can count on support from our network of experienced and professional retailers and our straightforward warranties to ensure your spa is always running at its best. We don't expect you to take our word for it though. We are proud to share the real experiences of our customer's right here on our website.
Read what Hot Spring owners have to say.
THOUGHTFUL DESIGN
From the dramatic shell to the brushed stainless-steel jet details and multiple points of light, your Limelight® Collection spa will surely turn heads. Make your personal retreat a stunning addition to your home or backyard.
Beautiful, yet durable, Everwood® siding in three colors
Uniquely sculpted shell interior
Elegant shell colors ranging from pearlescent to marble-like
Large, bold jets
An intricate foot well pattern
A sensor-driven logo light for at-a-glance diagnostics – you'll know when your spa is at the set temperature and when maintenance or service is required
Multiple points of colored lighting
FINANCING OPTIONS
GET INSIGHT ON OUR FINANCING SUGGESTIONS THAT APPLY TO YOUR NEEDS
learn about financing