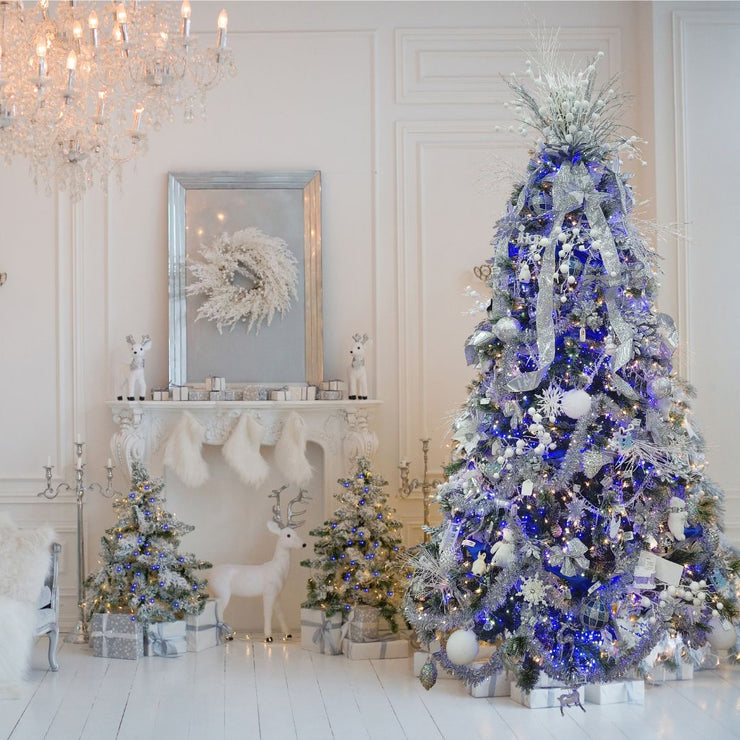 Christmas Theme Trees
Christmas time is near! Every year at American Sale, we style multiple Christmas trees with specific themes available for all of our customer to shop! We take the hard part out of designing luxe, Christmas trees and curate everything from the ornaments to the garland, to the lights, all the way to the tree topper, in hopes of helping you take home a magazine worthy tree without the hassle! Whether you need some Christmas tree decor inspiration, or just want to browse beautiful and opulent trees, we are your one stop shop for all things Christmas! Browse all of our 2022 theme trees in store or at the links below. 
 - - - - - - - - - - - - - - - - - - - - - - - - - - - - - - - - - - - - - - - - - - - - - - - - - - - - 
2022 Theme Trees
Season of Freezin'
The Season of Freezin' theme tree is perfect for those who aspire to have an icy blue winter wonderland themed Christmas tree. Adorned with royal blue, icy blue, white and silver ornaments, lights, garland, picks and other decorations, this tree screams winter wonderland! Shop this entire look at the link below!
Shop The Season of Freezin' Theme Tree Here
.
Gingerbread Theme Tree
The Gingerbread theme tree is the perfect tree for those who love sugar and spice and everything nice! The traditional red color scheme with friendly gingerbread men all around the tree, creates a sweet and cozy atmosphere to your home. Adorned with the cutest gingerbread men, sugar plums, candy canes, gingerbread houses and cookie ornaments. Plus, the candy cane picks add the perfect touch to this this tree. This theme is a fun (and tasty) twist on your normal tree decorations. Shop the full look at the link below!
Shop The Gingerbread Theme Tree Here
. 
Precious Metals
Can't decide between gold or silver? Us either! That's why we love this tree! The Precious Metals theme tree is regal with its mixed metal aesthetic. Adorned with both gold and silver pieces, this tree screams luxe! The Precious Metal tree is for perfect for those who love opulence and want to make a statement in their home. Shop the entire look at the link below!
Shop The Precious Metal Theme Tree
Here
.
Gnome for Christmas
Gnomes are known for guarding earthly treasures and are perfect for protecting the goodies under the Christmas tree. The Gnome for Christmas theme tree is perfect for those who want a fun twist on the traditional Christmas tree decorations. Embellished with gnomes both big and small! These friendly fellows will make the perfect addition to your holiday decor. Adorned with gingham and plaid patterned ribbons and garland, this tree will add a fun and festive vibe to any home. Shop the full tree at the link below! 
Shop The Gnome for Christmas Theme Tree Here
Santa's Workshop
Santa's little helpers are always hard at work trying to get toys made for Christmas. This theme tree is centered around Santa and is adorned with all of Santa's little helpers, from elves, to reindeers, to nutcrackers, to Santa himself. The ornaments and tree as a whole embody the full spirit of Christmas! 
Shop The Santa's Workshop Theme Tree
Here
__________________________________________
We hope this gave you some tree inspiration and helps you create the most festive tree yet! We'd love to see your creation! Tag us on social media @AmericanSale on Instagram, Facebook, or Twitter submit your photos to our Customer Gallery here. 
Don't forget that we're your one-stop-shop for all your holiday décor! From Christmas inflatables to over 180 trees, to lighting and festive signs, we've got everything you need to transform your home into a Winter Wonderland this Christmas!
---