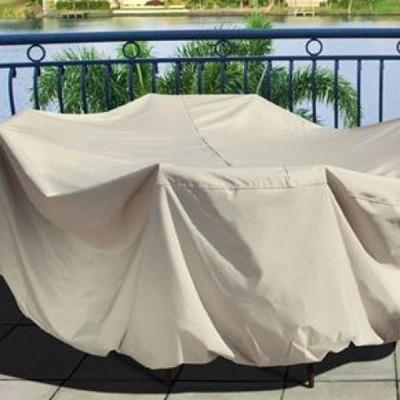 How to Protect Your Patio Set
Here in Chicago, we are all enjoying a fantastic summer with sunny hot days and warm relaxing nights. Perfect for outdoor fun! But what do you do with your outdoor furniture when the occasional summer storm comes rolling through? Well, we have all the tips and protective gear to make sure your patio furniture stays safe so you can continue enjoying your outdoor space after the storm passes.
Cover your Furniture!

It's the BEST way to keep your furniture dry and free from any debris or scratching during a storm. And make sure to find the right fit for your chairs, tables, and umbrellas. Measure your furniture before buying your

furniture covers

or if you've purchased with American Sale, remember your set name and we can help you find the proper fit for your seating group. We sell individual covers for pieces, but we also sell covers for chairs and tables together. 
Weight your furniture!

Weighing down furniture with sandbags or weights can also be a good idea if the storm is going to be particularly strong. This depends on the weight of your furniture itself as well. If you have sling, aluminum, resin or wicker patio furniture, weighing down your table and chairs is a GREAT idea. If you have a cast iron or aluminum set, you may not have to do this. Chairs should also be tucked in under the table and umbrellas should always be placed in a heavy umbrella base like below to keep it from blowing away. 
Store your cushions and umbrella!

Cushions and umbrellas are easily damaged during storms when left outside. So if a storm is coming, take them inside or store them in a heavy duty outdoor storage container. Umbrellas can get sun and wind damaged as well. So if you are not using your umbrella, make sure it's secured in an umbrella base and covered with an umbrella cover or store it away inside. 
Trim Your Trees!

Large tree branches hovering over you patio furniture can pose a threat to damaging your set. It's a good idea to make sure any tree branches that are overhanging your set are either trimmed or removed. Also, if you have an awning, make sure it's closed or secured before a storm just to make sure your patio furniture doesn't get damaged by it.
These tips and products can help you reduce your risk of patio furniture damage by a storm, but the most important thing to remember is to be safe! If you need to take cover, and don't have time to address your patio furniture, that's OK! Get indoors and to a safe location. Summer storms can come out of nowhere and can bring extreme winds, hail, lightning, and rain. Your safety is the primary focus. So be safe first and then enjoy the beautiful summer!
American Sale
---