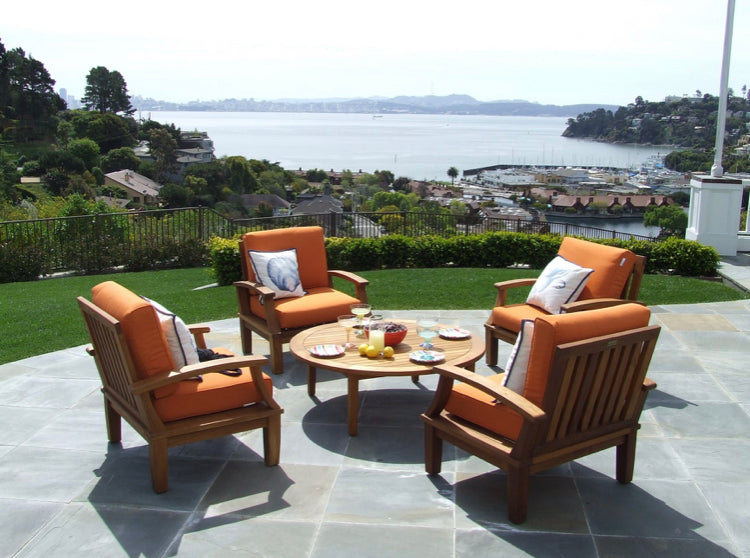 Picking the Right Patio Set for Your Backyard
The weather is starting to warm up and Summer is on it's way! You're starting to think about all the days and nights you will spend relaxing in your backyard. But you know that your space is in need of a pick me up!
Not to fret, you've come to the right place! As one of Chicagoland's largest outdoor living retailers, we carry a large variety of Patio Sets and other outdoor living items. You can find everything to need upgrade your backyard.
Here are some things to consider when buying a Patio Set for your new backyard oasis.
Question 1:
When you think about all the summer days in your backyard, what do you imagine doing?
Will you be cooking and dining in your backyard?
Will you be comfortably relaxing in with family and friends?
If you see yourself, family, and friends dining in the backyard, then a dining set with 4 to 6 chairs would be your ideal patio set.
If you see everyone comfortably relaxing, then a cushioned set would be the ideal patio set, with maybe a fire pit table.
Question 2:
How much can you fit into the space so that everyone is comfortable?
Is a 6- seat dinning set where your family can sit around the table together and enjoy dinner, perfect? Do you need something smaller or bigger?
Is a cushioned seating area comfortable so that everyone can sit and enjoy each other's company, a better fit?
Can you have it all, a large outdoor dining set with a matching cushioned seating that would be perfect for any backyard event?
 To answer these questions, measure the area of your backyard and bring a measuring a tape with you to the store.
Question 3:
Cushioned Patio Furniture
Offers: Regular and deep seating options, beautiful patterns, the ability to change the look by simply changing cushion designs, an accent to your outdoor living area, durability, and its indoor seating comfort for your outdoor area
A comfy cushioned patio set will certainly be the place to entertain or relax this summer. Whether you choose a cushioned dinging set or a deep seated conversation grouping, you and your guests will be lavished in comfort and style. Make your outside lifestyle as comfortable as your inside dwelling.
Wicker Patio Furniture
Offers: Classic look, relaxed style, comfort, easy maintenance, and versatile use
Wicker furniture has a classic outdoor garden look that allows you to entertain your guests in style. Our resin wicker furniture resists fading and cracking in extreme heat and cold.
It also has the features to be stylish, low-maintenance, lightweight, and highly durable pieces.
Sling Patio Furniture
Sling seating features comfortable and durable sling fabrics that are especially designed for a busy lifestyle. Sling seating is especially practical to have near your poolside lounging area. It features quick-drying properties and is easy to clean and maintain.
*We also offer a padded sling chair that has fiberfill placed between the fabric layers forming channels that give a little more padding and extra comfort.
Cast Aluminum Patio Furniture
Offers: Strong frames, non-rusting material, the ability to retain its beauty through hot summer days, durability, comfort, elegant and stylish, suitable for use anywhere outside, can also be used indoors, low maintenance, and a worthwhile investment
Cast aluminum patio furniture is elegant and sturdy for those high wing areas. With its stately, classic styling and endless options for customization, cast aluminum patio furniture is sure to beautifully complement nearly every exterior aesthetic, making it a striking and price-efficient option for commercial and residential spaces alike.
Question 4:
Now that you've weighed all your options and found your perfect set, is there something that could make your yard even better?
Summer is known for the hottest days of the year, so are you going to be able to enjoy your new set in the burning hot sun? Or do you need to create your own shade?
Well at American Sale, we are the perfect items to create shade in your backyard:
Gazeebo or Cantilever (Offset) Umbrella
We offer a varied of gazeebos in different styles and colors. We also offer a very wide collection of cantilever umbrellas in many different sizes and colors.
Question 5:
We all know this is not what anyone wants to be thinking about, but are you ready to protect your new patio set for the winter?
Patio furniture lasts longer if owners keep it out of the elements during the winter months.
There are really two options in order to protect our furniture:
Protective Furniture Cover(s) or Storage
The best time to buy weather protection covers for your new patio set is when you buy the new patio set. You are guaranteed to have a winter cover when the time comes instead of looking when everyone else is also looking for covers and store locations sell out.
A better option is having the patio set actually in storage. It's then really protected by the elements of the weather. But not everyone has the space to store a whole patio set, and that's ok. That's what protection covers are made for.
---