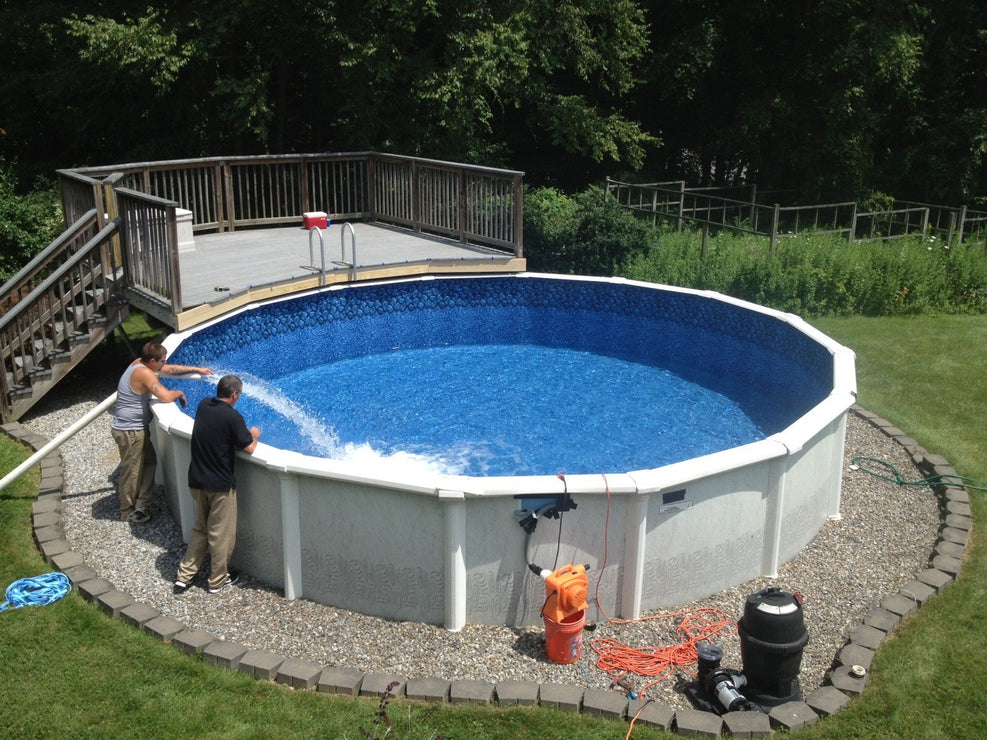 Happy Spring! It's Backyard Prep Time!
Spring has officially sprung and it's getting warmer and warmer each day! We are thrilled to kick off another hot summer season and we're sure you are too! But is your outdoor space ready for all the get-togethers, parties, and play dates? If not, here are a few spring cleaning tips to getting your space prepped and ready for all the fun in the sun!
Opening Your Pool 
(Tips are for Above Ground Pools)
Remove water from the surface of your cover
Remove your pool cover
Hose down your pool cover, let air dry, and store yr cover
Reattach your skimmer, and begin filling the pool
As your pool is filling, assemble filter and hook up hoses to your pool
Once the pool is filled half way through the skimmer opening, prime your filter
Use a leaf grabber to remove any heavy debris from the bottom of the pool
Vacuum (or vacuum to waste)
Check on baskets often and empty them
Once vacuuming is complete, begin to skim the surface of your pool
Test your water
Add the needed chemicals
Stop into any one of our 9 store locations or call us at 708-614-6552 for any help with your pool opening questions!
If you're not interested in doing this task yourself, we can help! Just fill out this
form
and someone will call to schedule you! 
Cleaning Your Patio Furniture
Take out your patio furniture from storage or uncover it.
Assess the furniture for any debris, mildew, grime or damage.
Depending on your patio furniture material (teak, cast aluminum, cast iron, sling, etc) take a microfiber cloth with some water (do not add any type of soap or bleach!) and wipe down your chairs, tables, sofas, and umbrella (be careful not to scratch off any stain or finish).
If you have deep mildew or grime on your furniture (mostly common with sling furniture), use a garden hose spray head to break up the grime. Do not use a power washer for cleaning furniture as this may damage the frame and/or material. 
If you have teak furniture, consider using a finishing teak oil to protect your furniture from UV rays and mildew. 
Fold and store your patio furniture covers in a dry place. Consider using an outdoor storage container for your cushions and covers!
Set up your furniture in the arrangement you desire, and ENJOY!!!
Getting The Grill Fired Up
First, make sure the gas supply is off.

Locate the gas supply valve on the propane tank and where the grill connects to the house for LNG supplied grills. And turn the knob or level clockwise to shut off the gas supply. 
Remove grates and scrub with a wire brush and soapy water. Be sure to clean both sides of the grates!
Remove any metal plates or coverings from the burners and scrub clean.
Wipe any grime off the burners.
Scrape any charred drippings from the bottom of the grill surface.
Clean the bottom of the grill with a soapy sponge. Check the sides and underside of the lid for flaking paint or caked on food and remove if necessary.
Check drip pan under the grill and replace as needed. If it's not disposable, wipe out the grease with paper towel. Rinse drip pan with soapy water. 
Replace your now clean components and make sure they are properly in place. 
Turn gas on and fire up the grill! Close the grill lid and let it burn on high for 15 minute to burn off any remaining soap or cleaner you used on the interior of the grill. 

Recommended Extra Step

- Turn off burners and oil the grates with a paper towel dipped in canola oil. Oiling the grates will help to prevent food from sticking to the surface. 
Your grill is now ready to ENJOY!!!
And of course, it's always nice to maintain or plant fresh flowers and shrubs around your outdoor space each year! And if you're looking to update or add to your outdoor space this year with a new patio set, pool, swing set, trampoline, grill or hot tub, you know where to visit! Stop into any one of our 9 Chicagoland locations, and one of our Product Experts would be happy to help you make your backyard, patio or deck the outdoor space of your dreams! 
Happy Spring!
---