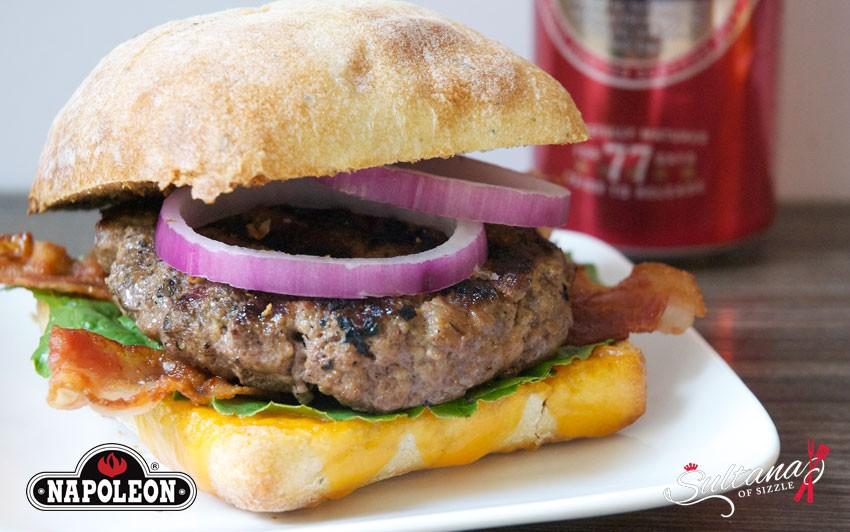 Burger Week Recipe #4 - Maple Bacon Beer Burgers
This recipe could not sound more delicious if it tried! Maple Bacon Beer Burgers are on the menu tonight! Thanks to our friends at Napoleon Grills for the recipe! If you don't have a Napoleon Gas Grill, you can shop for them on our site! 
(Image courtesy of Napoleon Grills)
Maple Bacon Beer Burgers
Serves: 4       
Total Time: 1 Hour**
INGREDIENTS
 1 lb. ground beef, you want a mix of 80% lean to 20% fat to keep them from shrinking and being dry
 2 tbsp. Better Butter Burger Seasoning
 1/4 cup beer, something with a hint of honey or maple is best, but you can use your favorite
 2 tbsp. maple syrup
 4 tbsp. maple bacon bbq sauce
 1 tbsp. freshly ground black pepper
 salt to taste
 12 slices of honey or maple cured bacon, cooked crisp
 4 slices of old sharp cheddar cheese
 4 rosemary focaccia buns
 4 tbsp. butter
 sliced onion and lettuce for serving
DIRECTIONS
Step 1
Preheat the grill to 400°F. Grill the bacon over indirect heat for 15 to 20 minutes, flipping half way, until perfectly crispy.
Step 2
In a large bowl, combine the beef, better butter burger seasoning, beer, maple syrup, bbq sauce, pepper, salt and crumble 4 of the slices of bacon, adding them to the beef.
Step 3
Mix the ingredients very well and then form into 4 patties. Lay the patties on waxed paper and chill them for 30 minutes. **This is where the extra time comes in for the total time.
Step 4
Preheat your grill again to between 450° and 500°F and grill your patties over direct heat for 4 to 5 minutes per side.
Step 5
Butter the buns and grill them on the warming rack. Top the burgers with cheese in the last minute or two of grilling.
Step 6
Place the burgers on the buns and top with two slices of cheese. Dress them to your heart's content with your favorite condiments, and serve.
---