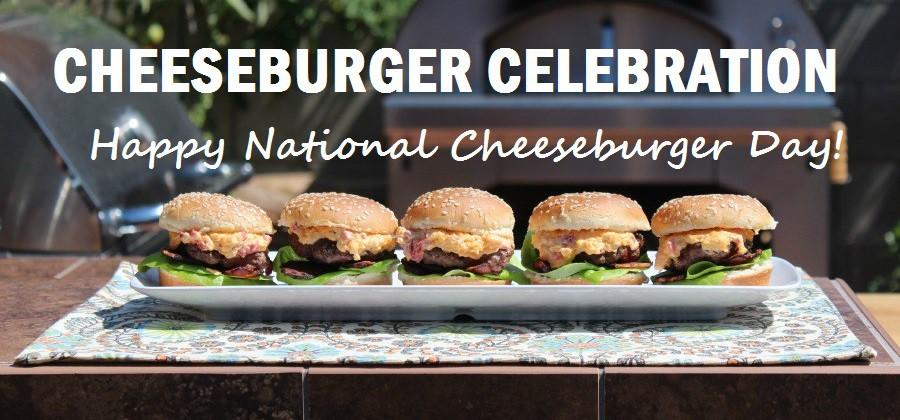 Celebrate National Cheeseburger Day with These Amazing Cheeseburger Recipes!
It's National Cheeseburger Day! That means getting your grill fired up, fixins ready, and taking your favorite kind of meat and throwing it on the fire....with cheese of course! 
With the help of our great grill brands, we found some incredibly delicious, sinfully juicy, surprisingly inventive out-of-this-world cheeseburgers for you to try! From the classic bacon and cheese combo to the southwest spicy kick we all love, we've found recipes that should satisfy your cheeseburger cravings!  Check them out, try them out, and let us know how they tasted!!! 
Classic Bacon Cheeseburger From Weber Grills
INGREDIENTS- 
6 slices bacon
2 pounds ground chuck (80% lean)
Kosher salt
Freshly ground black pepper
6 slices extra-sharp cheddar cheese
6 hamburger buns, split
6 leaves crisp lettuce
6 slices tomato
Ketchup (optional)
Mustard (optional)
In a large sauté pan over medium heat, cook the bacon until crisp, 10 to 12 minutes, turning occasionally. Transfer the bacon onto paper towels to drain.

Gently shape the ground chuck into six burgers of equal size and thickness, each about ¾ inch thick. Season both sides of the burgers with salt and pepper. With your thumb or the back of a spoon, make a shallow indentation about 1 inch wide in the center of each patty so the centers are about ½ inch thick. This will help the patties cook evenly and prevent them from puffing on the grill.

Prepare the grill for direct cooking over direct high heat (450° to 550°F). 

Brush the cooking grates clean. Grill the burgers over direct high heat, with the lid closed as much as possible, until cooked to medium doneness, 8 to 10 minutes, turning once. During the last minute of grilling time, top each burger with a slice of cheese to melt and toast the buns over direct heat.

Serve the cheeseburgers hot on the toasted buns with a lettuce leaf and a slice of tomato, topped with a slice of the bacon. Serve with ketchup and mustard, if desired.
1 1/2 lbs ground chuck (80/20)
Traeger prime rib rub
Canola oil
Jack cheese sauce:
1 tbsp butter
1 tbsp flour
1 cup whole milk
12 oz monterey jack cheese
1/4 cup parmesan cheese
Salt and pepper, to taste
INSTRUCTIONS- 
When ready to cook, start the Traeger grill on Smoke with the lid open until the fire is established (4 to 5 minutes). Set the temperature to 400 degrees F and preheat, lid closed, for 10 to 15 minutes.
Wet your hands with cold water and divide the ground chuck into 4 parts. Using a gentle touch, roll each part into a ball, then flatten to a thickness of about 3/4-inch. Rewet your hands as necessary to keep the meat from sticking.
Using your thumbs, make a wide shallow depression in the top of each. (This helps keep the burger an even thickness as it cooks.)
Season with the Traeger Prime Rib Rub and brush the top and bottom of the burgers with canola oil to help get a good sear on the outside.
Arrange the burgers, depression side down, on the grill grate and grill for 10 minutes. Turn with a spatula and continue to grill another 5 to 10 minutes, or until the internal temperature of the burgers is 155 degrees F.
Cheese Sauce: Melt the butter in a small saucepan over medium heat. Whisk in the flour and cook for 1 minute, until slightly golden.Add the milk, increase the heat to high and cook, whisking constantly, until slightly thickened, about 5 minutes. Remove from the heat and whisk in the cheese until melted; add the Parmesan and season with salt and pepper, to taste. Keep warm while the burgers finish cooking.
Toast the buns if desired. Transfer the burgers to the bottom halves of the buns, being careful not to spill any juices that have pooled in the depressions.
Spoon a generous amount of the cheese sauce on top. Serve with your favorite toppings and serve immediately. Enjoy!
South-By-Southwest Pimiento Cheeseburger Sliders From Bull Outdoor Grills
INGREDIENTS-
1½ pounds ground chuck (80/20)
½ teaspoon ground black pepper
3 tablespoons diced green chilies, preferably Hatch
2 tablespoons chopped pimientos (remainder from pimiento cheese)
12 slider or mini burger buns
Pimiento Cheese Mixture (recipe below)
12 slices cooked crisp bacon
INSTRUCTIONS-
Crumble ground chuck into a bowl. Add celery salt, black pepper, chilies and pimientos. Mix well with your hands but do not mash together. Shape ground beef into 12 patties slightly larger than the buns. Indent the burgers with your thumb and refrigerate until ready to cook.
Set up grill for direct cooking over high heat. Brush and oil the grates before cooking.
Grill the burgers for 2 to 3 minutes per side for medium (165ºF). Remove from grill and spread patties with pimiento cheese. Serve on hot toasted buns with butter lettuce leaves, and bacon.
Pimiento Cheese Mix
2 tablespoons softened cream cheese
¼ cup mayonnaise
2 teaspoons grated onion (not finely chopped)
¼ teaspoon garlic, grated
½ tsp sugar
¼ tsp paprika
⅛ tsp celery salt
1 pinch cayenne
4 oz. extra sharp cheddar, shredded (about 1 cup)
2 tablespoons chopped pimientos, drained (from a 4 ounce jar, reserve remaining)
INSTRUCTIONS-
Thoroughly combine everything up to the cheddar cheese and pimientos. Fold in the cheese and pimientos. Alternately, dump everything into a food processor and blitz – it's just a little smoother is all. It can be enjoyed at this point, but it is really best if it's left to sit in the fridge for an hour or two to let the ingredients to get to know each other.
So on this National Day celebrating the deliciousness of an American cuisine staple, the incredible Cheeseburger, we wish you happy eating!!!
American Sale
---