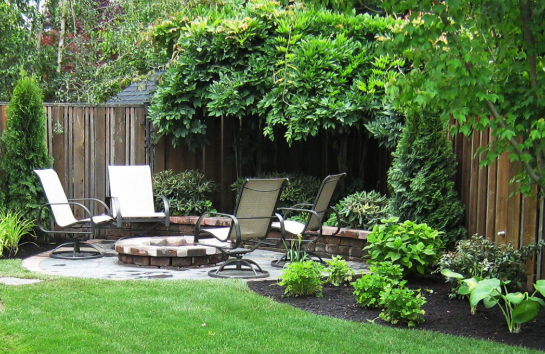 Get Your Backyard Spring Ready With These 5 Easy Steps!
With the snow melting soon, we will clearly see what a mess this Winter has left us! But not to worry! We have five easy steps that can help get your backyard ready for Spring in no time!
1. Clean all the surface areas 
Start from the ground up! Whether you have a concrete, wooden, or stone patio, you will want to clean off the debris and dirt with either a power washer, leaf blower, push broom, or a rake. This will give your area a fresh clean look! Make sure to move your patio furniture or any other items out of the way when you do this, especially if you're using a power washer. It's also good to pull any weeds or plant life that's starting to grow in areas you don't want and to clean off the old leaves and plants from the previous season. 
2. Wash your patio furniture
For stainless steel and wrought iron patio furniture sets, we recommend good ole soap and water with a sponge or a soft bristle brush to avoid any scratching. Towel drying after will prevent any water marks or potential rust on products. This will also prevent the cover from sticking to the furniture to let it dry.
For wooden, wicker or teak patio sets, we recommend a soap and water mixture with the use of a soft brush for mild stains. To keep your wooden set looking like new, applying a sealant will help preserve the color of the wood as well as add extra protection for a few years. Typically, sealants only need to be applied every few years.
Plastic sets, which are the easiest to clean and maintain, can be sprayed with an all purposes cleaner and wiped down with a sponge or towel.
For fabric furniture, like a hammock for instance, these items can be placed in the washing machine with a mild detergent. Please be sure to check manufacturer's instructions to ensure your item does not have any special care instructions.
When attempting to use a power washer on your furniture, first ensure that the material is strong enough to withstand the strength of the power washer. For instance, this could cause denting or even chipping on some of the softer wooden sets. We highly recommend only using a power washer for very grimy surfaces that don't clean well with soap and water. Also, use the lowest setting on the power washer with a fan tip that sprays a wider area.
3. Replace worn out or outdated pieces
Let's face it, weather, sun and even the kiddos can cause some extra wear and tear on our outdoor pieces. Cushions may be one of the things you will be in need of replacing. Whether they are old and damaged or you just want to change your outdoor look, we've got you covered! With most sets, you can shop our in-store replacement cushion section! But if you can't find something you're looking for, you can have your cushions custom ordered! We have hundreds of options to choose from! So stop in any of our locations to browse our aisle or take look at our fabric books!
4. Add a pop of color!
Maybe you still like your cushions, but just want some more color. Throw pillows, a colorful outdoor rug, hanging some lights, or just planting some flowers will add some much needed color to give your backyard that extra flair! And our Product Experts are here to help give you tips to really bring your space to life!
5. Don't forget to dust off the grill! 
NO backyard is fully ready until you have the grill fired up and cooking something delicious on those warm spring days! We encourage grilling all year long, but for those of you who let your grill take some time off during the colder months, we recommend setting aside some time to get your grill clean and ready for use when the weather turns warmer. This could be an entirely different blog article, but in the meantime we have this helpful video from our friends at Weber Grills for some cleaning tips! 
Now....Sit Back, Relax and Enjoy all Season Long!
This part is easy! Once you have your backyard cleaned up, your patio set sparkling, and your grill sizzlin' away...there's nothing left to do but invite some friends and family over and enjoy! And that's the part we're ALL about here at American Sale...Bringing The FUN Home!
---