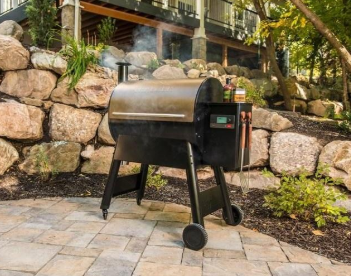 How to Find the Perfect Grill
Warmer days are here and we know you're craving a burger right off the grill. Your grill however, has seen better days, so it's time to go grill shopping! But before you head to the store, you need to think about what type of grill you imagine having in your backyard. You should never buy a grill on impulse or because it is on sale for "cheap". 
Here are a few things to consider when shopping for a grill:
The first thing you need to focus on is what type of grill do you want to cook with. Everyone has their own preference when it comes to cooking, so pick what's best for you.
A natural or propane gas grill is best for the chef who wants to quickly fire up the grill and cook a meal without having to worry about the preparation and clean-up. Most gas grills require a fairly good amount of space and cannot be used too close to any structure. Gas grills can have side burners, rotisserie kits, multiple burners, and a variety of other features and accessories.
A charcoal grill is best for the purist griller. If you long for that smoky, grilled flavor or if you enjoy smoking meats, the only way to achieve both is with a charcoal grill. Charcoal burns at a higher temperature than gas, allowing a skilled grill master to easily sear meats. It requires a good amount of space to avoid unwanted fires. With charcoal, you have to allow plenty of time to get the fire going. Plan on adding 20 to 30 minutes to your cook time for the grill to warm up.
An electric grill is best for the city or apartment dweller who is prohibited by fire regulations from using gas or charcoal grills. But you do lose a lot in the way of flavor. It's basically just warming up food until its edible.
Now if you want an above and beyond grill that does everything, then maybe you should look at wood-fired pellet grills or a ceramic grill.
Wood-fired pellet grills are best for anyone who is interested in traditional old style grilling and BBQ'ing. It's a little fancy, but also doesn't mind spending time to get that irreplaceable woody, smoky taste. One of the most appealing things about the pellet grill is that it truly acts as both a smoker and a grill.
Ceramic grills are best for the party person who likes to cook large amounts of food over a long period time without having to go through a setup process over and over. But it grills, bakes, roasts, and smokes at exact temperatures by easily adjusting the air flow. Ceramic grills are extremely safe to use, as the ceramic surface does not get as hot as a metal grill.
Now think about the image you have for your backyard. Do you see a full outdoor kitchen with all of the appliances you can dream of? Or are you the type of person that just needs the perfect grill to cook everything above and beyond? There are many brands of grills that have their own style to help create your perfect backyard the way you want it.
If you are looking for the complete outdoor kitchen, then take a look at Bull Grills. They allow you to design your own grilling island and will also transform your ordinary backyard grill section into an elaborate outdoor kitchen.
If you are looking for a simple grilling section in your backyard, then take a look at Bull, Weber and Napoleon gas grills, and all their fun accessories!
If you are looking for a grill that does it all, Traeger Wood-Fired Pellet grills and Big Green Egg grills are the ones for you. These grills can smoke, bake, grill, roast, braise, and barbecue your way into the hearts of those you feed at exact temperatures.
Stop in today and we will help you find the grill of your dreams!
Happy Grilling!
---