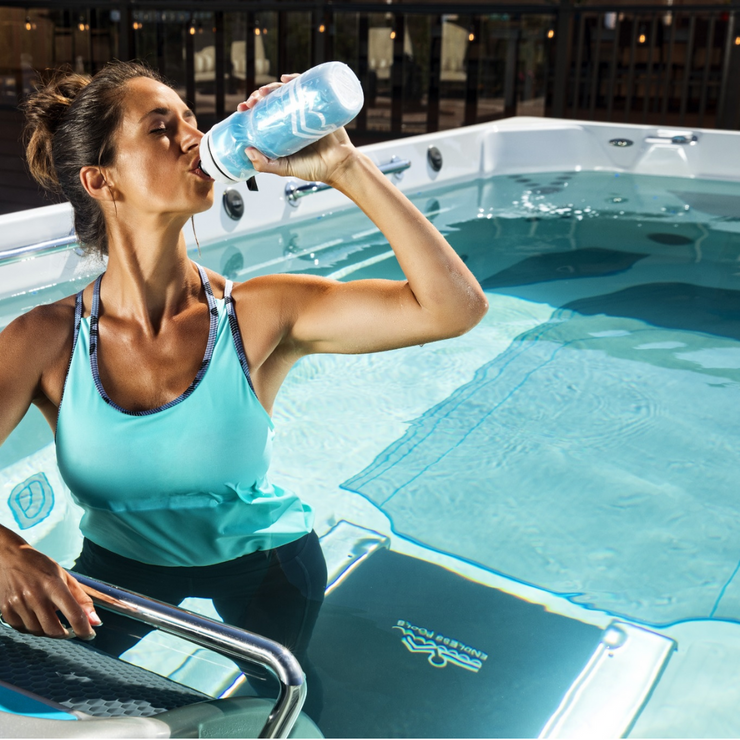 Invest in Your Wellness & Meet Your Health Goals in 2023
Get your health back on track for the new year! With New Year's upon us, it's a great time to think about the resolutions we would like to tackle this year. The new year means a fresh start and we are all about meeting New Year's resolutions. We know the perfect products to help achieve them! The best investments are those that benefit our health and well-being in the long run. At American Sale we carry the best of brands so you can enjoy quality products for years to come. Below are some products we think you'll love and how they'll help you meet your goals!
Hot Tubs
People consider having a hot tub a luxury, but really the physical and mental benefits outweigh the recreational uses. Plus, they can be used year-round - winter or summer! Start off the New Year stress free. Some benefits of soaking the stress of the day away in a hot tub are...
1- Decreases Cardiovascular Risk - heat therapy is an effective way to decrease cardiovascular risk. Immersion in warm water for as little as 10 minutes can lower blood pressure.
2-Relieves Muscle Pain - when our blood circulation increases, the built up muscle tension is released, alleviating the muscle pain. This helps soothe tense muscles.
3- Improves Blood Circulation - When our bodies are immersed in hot water, the blood circulation in our body increases. 
4- Reduce Joint Pain - Immersing your body in warm water (especially those with arthritis) helps restore and preserve both joint strength and flexibility. Soaking will help ease the stiffness of the muscles as well as the inflammation causing the pain.
5-Improved Mental Health - Soaking in a warm hot tub reduces the hormones related to stress. It also reduces stress levels related to anxiety while also increasing blood flow to the brain.
6- Improved Sleep - Hot baths promote deeper and more restful sleep. The warm water from the hot tub raises body temperature, making it easier to fall asleep.
7- Weight Loss - If your goal is to lose some weight this year, soaking in a hot tub is just one way you can burn some calories. Studies show that sitting in a hot tub for 30 minutes for a couple times a week, results in minor weight loss without making any changes to diet or exercise habits.
Endless Pool Swim Spa
Get the best of both worlds with an Endless Pool. Not only can you swim, but you can relax in it too! It doubles as a hot tub too! This is one of our favorite products here at American Sale since it has so many uses! Endless Pools boast the industry's best swim-in-place experience, now with a dedicated spa side so you can regulate temperatures on both sides, independently. This machine offers fitness and fun, all in one! Plus, they can be used year-round, summer or winter! 
Aquatic therapy is the #1 low-impact exercise, perfect for those who are new to exercising or may have been recently injured and can only apply minimal force on joints and muscles. Endless pools offer...
swimming

biking

stretching

relaxation

running/walking
Whether it's the underwater treadmill, underwater bike, resistance bands, or the smooth current that lets you swim easily in place, there's an exercise for everyone! The broad, deep current also adds resistance to a range of aquatic exercises for added core engagement. The underwater treadmill (available on the 58" model) lets you walk, jog or run in water's low-impact environment. You'll burn just as many calories, but without the pounding of dry-land activity. It's ideal for anyone who has (or wants to avoid!) joint pain or overuse injuries. Afterwards, unwind with a soothing hydromassage. Each ergonomically designed seat has a unique configuration of jets – choose the right one to target your sweet spot or rotate among them for total-body relaxation. Endless pools are perfect for meeting those new year health goals providing the ideal environment for at-home, total-body fitness.
HealthMate Saunas
Relax and improve your health with a HealthMate Infrared Sauna! The benefits are endless! Made from eco-friendly eucalyptus wood to provide an anti-microbial, healthy & comfortable environment right from the comfort of your home.⁠ Health Mate introduced the first infrared sauna to the US in 1979 and now manufactures and distributes more infrared saunas than anyone else making them the undisputed leader of the infrared sauna industry. These saunas are compact, so you can add them into any open space in your home!
Why choose an infrared sauna over a steam sauna? 
Here's why...
7X more toxins released
2X-3X more sweat
5"– 3" deeper heat penetration in muscles
Infrared Sauna heaters achieves full muscle penetration after 30 minutes which takes much longer to do in a Steam Sauna
All of these benefits are achieved at a lower temperature which allows you to spend more time comfortably in an Infrared sauna vs a steam sauna.
.
Benefits of using an infrared sauna...
Stress and Anxiety Relief
Pain Relief
Promotes relaxation and induces deeper sleep
Detoxification
Fights illness and relieves sinus congestion
Weight loss due to burning calories - 200-600 calories burned in a 30 minute session
Provides cardiovascular conditioning
Inflammation Reduction
Relieves muscle spasms
Decrease in Joint Stiffness
Collagen Production to keep skin healthier and younger
Balances and releases hormones to improve focus
Chromotherapy feature tackles different health benefits
These are just a few products we know will help you improve your health and wellness in 2023. Bottom line is that sitting in a hot tub, swim spa, or sauna isn't just for recreational uses, but that the physical and mental benefits of owning one, outweigh those recreational uses. Stop into an American Sale near you to invest in your wellness today!
Browse hot tub models 
here
Browse swim spa models
here
Browse sauna models
here


---