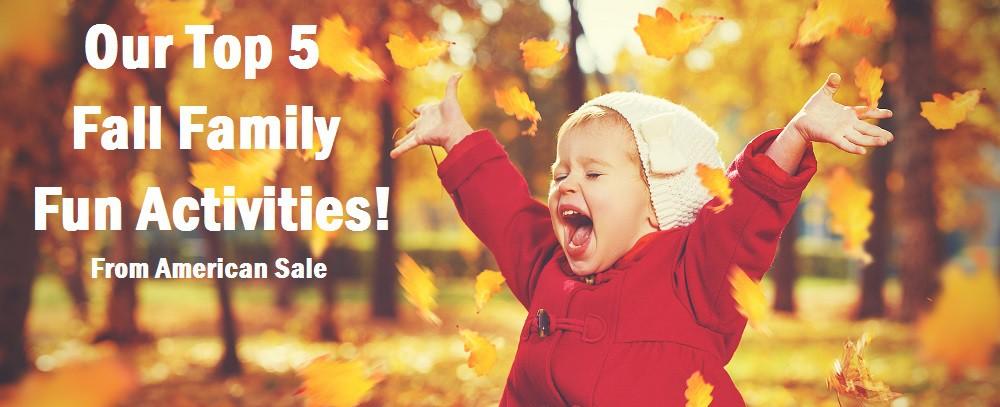 Our Top 5 Fall Family Fun Activities!
With the kids going back to school and the weather turning a bit cooler, you may think that outdoor fun is over. Well, good news! It's not! These are some of our favorite things to do in the Fall with some of the products we carry at American Sale!
Having Some Hot Tub Time! 

Well we couldn't make a list of fun things to do in the Fall without putting hot tubbing first on the list! Really, hot tubbing is the ultimate fun experience YEAR-round. But during the Fall, there's just a magical feeling all around you! With the brightly-colored leaves and the crisp refreshing air on your face, you can't find a better place or time to relax.  Check out the hot tub featured below, the beautiful Hot Spring Highlife Collection Grandee Hot Tub!
Nights around the Fire Pit!

What's better than snuggling up with your friends and family and having a laugh around a roaring fire? Fire Pits extend your outdoor fun time by creating a beautiful warm ambiance and offering a great tool to roast some marshmallows! A great way to enjoy the Fall outdoors! And make sure to have some cozy patio furniture to go with it! 
Jumping Into Leaves on Your Trampoline!

What's more fun than jumping into crisp fall leaves? How about adding some leaf piles to your Springfree Trampoline! Watch the kids delight in jumping into a pile of leaves and watching them fly into the air around them! It's also fun for parents too! 
Bringing The Park To Your Pad!

It's always fun to ride your bikes or take a nice Fall walk to the park with the kids. But did you ever consider having a beautiful, safe, and aesthetically-pleasing wooden swing set in your backyard for your kids to play on whenever they want? It's a wonderful way to keep an eye on the kids and watch them run, jump, and slide into a big pile of leaves! Bringing the park to your backyard! It's is a child's ultimate dream!  
Fall = Grilling Season!

Football, Tailgating, and Grills. They all go together so perfectly in the Fall, don't they? There's a reason you smell the grills fire up on a Sunday afternoon. It's Football time! So pack up the cooler! Fire up the Grill! Bring on the burgers, brats, hot dogs, and sausage! And enjoy a fun Fall afternoon with friends and family grilling up your traditional favs! 
So these are just some of the ways we like to have fun in the Fall here at American Sale! We think the Fall offers some one-of-a-kind moments that Bring The Fun Home, and we hope you find the perfect products from American Sale to join in! 
Happy Fall! 
American Sale
---